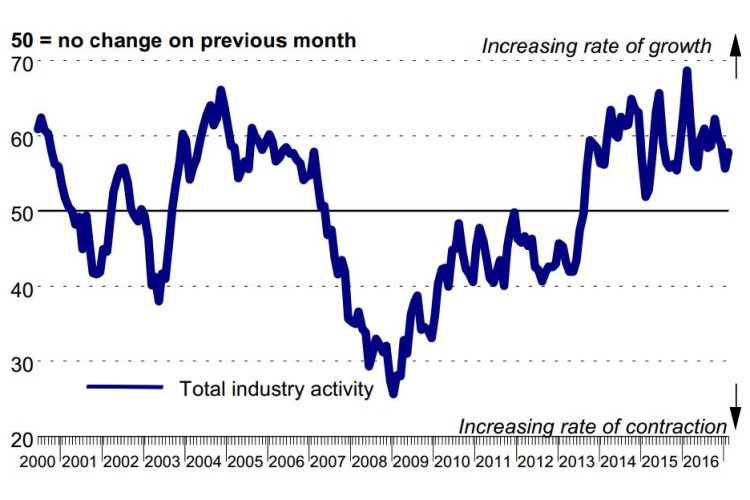 The rates of growth in both total activity and new orders accelerated in the Irish construction sector. Companies remained optimistic regarding the prospects for growth of activity over the coming year, with optimism supported by improving economic conditions and predictions of further rises in new business.
The Ulster Bank Construction Purchasing Managers' Index (PMI) – a seasonally adjusted index designed to track changes in total construction activity – rose to 57.9 in February from 55.7 in January, thereby signalling a sharp and accelerated expansion of activity. Growth has now been recorded on a monthly basis throughout the past three-and-a-half years, with higher new business and improvements in market conditions linked to the latest increase.
Simon Barry, chief economist republic of Ireland at Ulster Bank, said: "There was a very encouraging acceleration in residential activity which took the housing PMI back to levels last seen in November, in the process keeping housing as the strongest performing activity category last month. The pace of growth in commercial activity also accelerated in February and remains sharp. Civil engineering continues to lag behind the other sectors, with respondents reporting a fourth consecutive monthly decline in activity.

"Survey respondents mentioned that improving economic conditions continue to underpin strong client demand with the new orders index edging higher in February from already-elevated levels. In turn, this solid growth in new business continues to underpin increased demand for construction workers."
Barry added that the employment index remains close to record levels, with this month's reading representing the third-fastest rate of job creation in the survey's 16.5-year history.
Last week's National Accounts figures showed that construction was not only the fastest growing broad sector of the economy in 2016, but recorded its fastest year of output growth in over 20 years. "The PMI survey results so far this year suggest that the sector is sustaining strong growth momentum through the early months of 2017," he said.
Got a story? Email news@theconstructionindex.co.uk