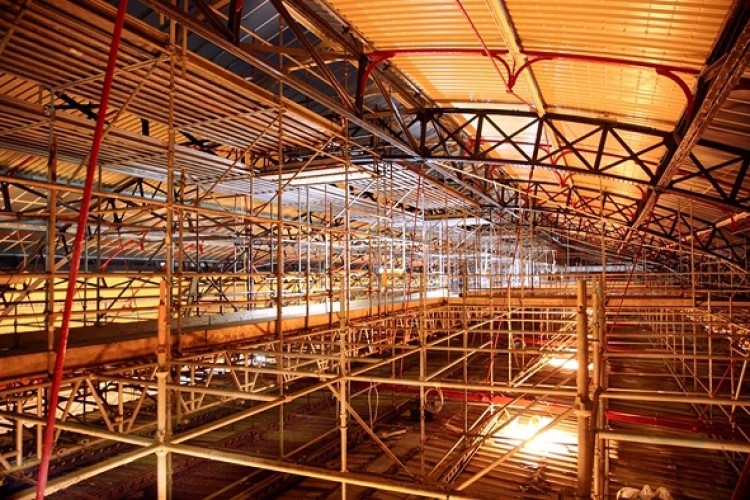 The 3-year, £35M project has enabled a major programme of cleaning and refurbishment work to be completed on the roof at London's Victoria Station, while allowing the station to retain its normal schedule of operations.
As a Grade Two listed building. the roof itself is widely recognised as an engineering masterpiece which dates back to 1865 and had undergone a series of ad-hoc repair works over the years. Along with the fact that the project was far more complex than originally envisaged, this presented Harsco with a series of unique challenges. 
"The listed nature of the building and the fact that the station had to remain operational meant that we had to work in very close collaboration with both May Gurney, who were the main contractor, and also with Network Rail," comments Harsco's Project Engineering Manager, Brendan Fox.
"We erected three temporary roof structures, one in each roof barrel and concourse. These were multi-functional and provided a weatherproof, dustproof, acoustic structure which also gave support for the access scaffold above, so that blasting, painting and glazing works could be carried out during normal working hours. In the Eastern barrel a 31.4m mansard roof structure spanning four platforms was built during the day, above a construction gantry.  At night this was then pushed out over the platforms in 24-metre sections. These ran on steel tracks which were supported on steel grillages and towers over the platforms.
In the Western barrel a part-mobile and part-static mono-pitch temporary roof structure was built. The static section was supported at one end on specially designed gallows brackets bolted to the West wall and this allowed the shops, bars and restaurants below to carry on business as usual. The spans were maximised wherever appropriate so that as much platform space as possible was retained for the full operational use of the station. This helped Harsco meet the challenge of maximising pedestrian footfall and passenger access to maintain the rain service.
"There were many challenges that arose from working in a live environment, " adds Brendan Fox. "These included having very limited storage facilities and only being able to complete certain works at night. However with careful and detailed planning, plus the use of innovative solutions to the various challenges that arose, we succeeded in completing the project to everyone's satisfaction and with no impact on train services."
Picture caption:  Harsco Infrastructure has announced the successful completion of a 3-year, £35M scaffolding project which has enabled a major programme of cleaning and refurbishment work to be completed on the roof of London's Victoria Station.
Got a story? Email news@theconstructionindex.co.uk