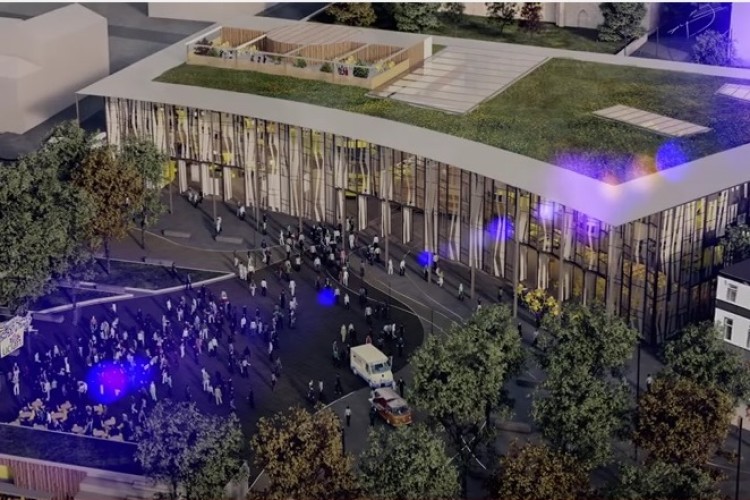 Hawkins Brown was selected for the University of Central Lancashire campus gateway project from a shortlist of seven practices. It will now produce detailed designs for 2017, with construction completion envisaged for 2019.
The design team includes landscape architect Plincke and lighting designer Jason Bruges. Aecom is project and cost manager and BDP is providing multi-disciplinary engineering services.
Hawkins Brown's design concept features a biodiverse roof, LED lighting underfoot, a pavilion café bar and a large glass façade to create feelings of light, space and airiness. It has been created using the idea of 'threads' to connect the university and the city, drawing on Preston's textile heritage and its present in aerospace electronics.

Roger Hawkins of Hawkins Brown said: "We are tremendously excited about getting started on this project, testing some of our initial design ideas with students and staff from UCLan and with people from the City of Preston".
RIBA adviser John Whiles, from the firm Jestico + Whiles, said: "The variety of the seven finalists' responses to the visionary brief were an excellent challenge to assumptions and expectations. It was only after much debate that the panel eventually felt that the low, transparent, student-focussed, pavilion approach proposed by Hawkins\Brown best captured the spirit of an interactive, catalytic, gateway building sought by the University of Central Lancashire."
David Taylor, chair of the university board, added: "We already have two world-class architecture practices working with us on the Masterplan in SimpsonHaugh and Partners and AHR, and now we have a third with the appointment of the team from Hawkins Brown. The standard of submissions was very high but it was Hawkins\Brown's visually impactful, well thought-out design which won the day. Hawkins Brown demonstrated a true understanding of what students want and of the city of Preston with the design referencing our industrial heritage. It is a firm which has extensive experience of partnering with universities and, importantly, the design will deliver on our ambition of drawing the university and city together like never before."
Got a story? Email news@theconstructionindex.co.uk