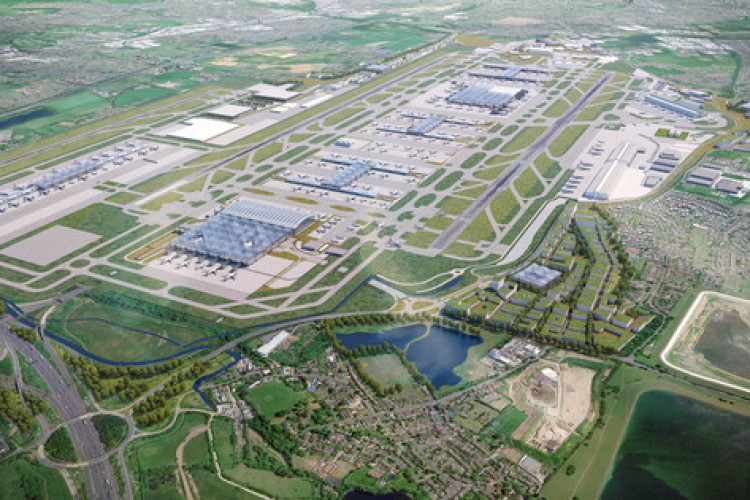 The government has today published its final proposal for an airports national policy statement (NPS), backing Heathrow's £15bn northwest runway option.
With no evident sense of irony, transport secretary Chris Grayling told the House of Commons: "The time for action is now."
The cabinet has resisted lobbying for an independently backed scheme for extending the north runway and collectively swung behind the airport owner's own third runway proposal.
To soften the substantial opposition to the project that has prevented it moving any quicker, the government has stipulated a £2.6bn package of compensation, noise insulation and improvements to public amenities – 10 times bigger than when the third runway proposal was first approved in 2009.
The package includes £700m for noise insulation for homes and £40m to insulate schools and community buildings. The airport has offered 125% of the full market value for homes in the compulsory and voluntary purchase zones, plus stamp duty, moving costs and legal fees, as well as a legally-binding noise envelope and more predictable periods of respite.


However, the project has still not been given development consent.
The planning system for a third runway involves two separate processes: one to set the policy, which is today's NPS; and then, if Parliament votes in favour of it, a second process for obtaining development consent, which includes a public examination by the independent planning inspectorate. Plenty of long grass to hack through yet.
Business groups are pleased that there is at least some movement towards the start of construction. Josh Hardie, deputy director-general of the Confederation of British Industries, said: "It's fantastic that the new runway at Heathrow is getting closer to take-off. All the more so as the United Kingdom has waited for nearly half a century for this decision.
"Expanding our aviation capacity, and creating new flight routes to rapidly growing markets, is mission critical to ensuring Britain can compete on the post-Brexit world stage. The new air links the runway will create will unlock growth and help create jobs at home, and enable more businesses – especially our many innovative and ambitious small and medium-sized ones – to export their goods and services to booming markets."
Got a story? Email news@theconstructionindex.co.uk