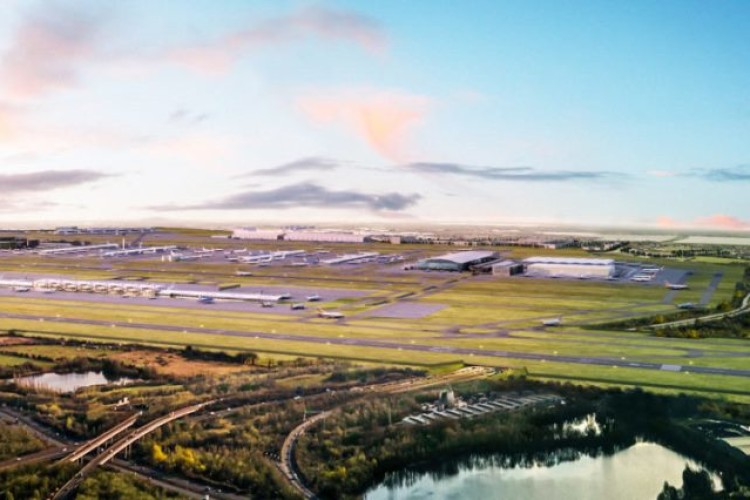 Heathrow is starting a 10-week public consultation on its expansion plans. It is seeking views on options to deliver and operate an expanded airport, alongside principles of new airspace design.
The consultation comes ahead of a parliamentary vote in the first half of 2018 on a national policy statement for a third runway at Heathrow.
Over the past year, Heathrow has been refining the plans that it submitted to the Airports Commission and cut the original £17.6bn costs by £2.5bn without compromising on the effectiveness of the expansion, it says.
The consultation puts forward three shortlisted options for the new northwest runway with length varying from between 3,200 and 3,500 metres.
There are also three options for new terminal infrastructure: expanding Terminal 2 to the east, expanding Terminal 5 to the west or a new satellite terminal by the new runway. The original plan envisaged a new terminal, but expanding an existing one should be cheaper.
Views are also sought on whether to move the M25 or go over it. The options are: realign the M25 motorway, repositioning it approximately 150 metres to the west and lowering it by seven metres into a cut-and-cover tunnel; or raise the runway height so it passes over the M25.

Emma Gilthorpe, Heathrow's executive director expansion, said: "When the government announced its support for Heathrow expansion it made a clear commitment to keeping Britain open for business.  We want an expanded Heathrow to be the world's best airport, ensuring that our country and its future generations have the infrastructure they need to thrive. 
"We need feedback to help deliver this opportunity responsibly and to create a long-term legacy both at a local and national level. Heathrow is consulting to ensure that we deliver benefits for our passengers, businesses across the country but also, importantly, for those neighbours closest to us."
However, the backers of Heathrow Hub, a rival concept for expanding Heathrow by extending and existing runway rather than building a new one, are refusing to go away. A spokesman for Heathrow Hub said: "It is unbelievable that nearly six years into this process, Heathrow are still producing new ideas. This time, the airport claims it wants to move the M25 150 metres to the West, dig the motorway into the ground, cut the runway length and put it on a ramp. But there is precious little detail on how this will be done in practice, or what the implications will be of closing or restricting the M25. There are no detailed breakdown of costs and how these will be passed on to passengers and airlines. It is a Heath Robinson Plan.
"Both Chris Grayling, the transport secretary, and Theresa May, the prime minister, are yet again being taken for fools by a major infrastructure provider. They need to demand proper detail from Heathrow and ensure the Department for Transport understand it, rather than letting Heathrow get away with issuing yet more pictures."
For further details on Heathrow Airport's proposals, and to respond to the consultation, see www.heathrowconsultation.com
Got a story? Email news@theconstructionindex.co.uk