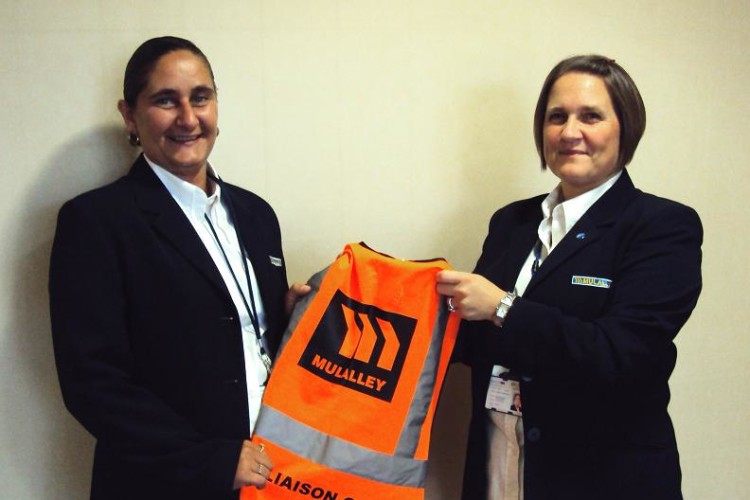 Tracey Anthony, 40, had been unemployed for 6 years and saw the scheme as an opportunity to learn new skills to help her get a job. She was given work experience as a Resident Liaison Officer with Mulalley and got to work alongside staff and go out in the community.
Tracey said: 'I used to be a painter and decorator, so my placement with Mulalley as a Resident Liaison Officer was perfect as I knew what I was talking about when I was consulting with residents and carrying out surveys for future works.
TILT (Training Initiative for Leaseholders and Tenants) is a free 12-week programme specifically designed for people who have never been employed, who have found it hard to keep a job, who have been unemployed for a long time or who need to develop their existing skills.
Tracey continued: 'This has been a totally life changing experience and I enjoyed every moment of my 4 weeks. The people were lovely – so supportive and they inspired me and encouraged me every step of the way.
'My family saw a huge difference in me. I was in work early every day and it felt great to have a purpose. My confidence has definitely gone up, as being unemployed is depressing and was getting me down.'
Following a graduation of all the work experience candidates, Tracey was invited to come and interview for a job vacancy for an RLO position with Mulalley.
Mulalley Director Richard Hatcher said: 'The feedback we had about Tracey was great. She was enthusiastic and hard working and got on well with both staff members and the residents she worked with.
'We were pleased to ask her in for interview and offer her the position and wish her luck for her future with us here at Mulalley. This scheme has been a big success and we hope to continue its success in the future.'
Time Price, Chief Executive Officer at Hillingdon Homes said: 'This programme is already making a difference to the lives of our tenants and leaseholders. Thanks to Mulalley and our partners for their commitment to making it happen.'
Tracey added: 'I'm very excited to start my new job with Mulalley and am grateful to them for this opportunity. I never expected to get a job at the end of it!'  
Got a story? Email news@theconstructionindex.co.uk