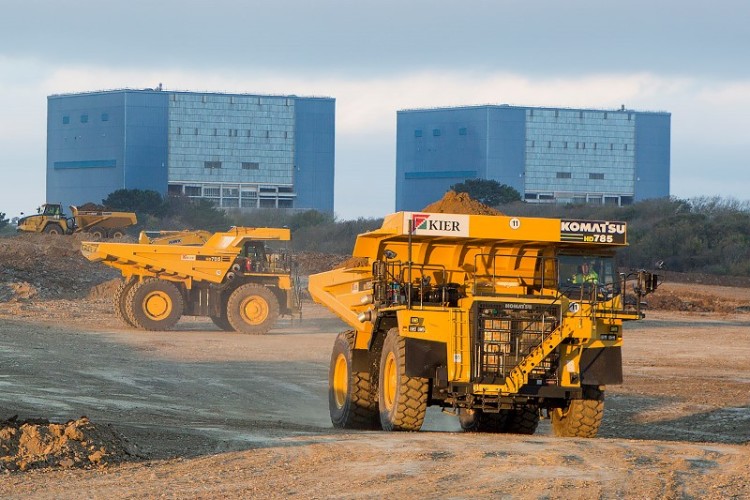 Contracts have been in place for many months, or years in some cases, with advanced preparatory work ahead of final approval.
The first electricity from Hinkley Point C is due to be produced in 2025. Here are some of the parties involved in the project:
The big ticket items are being procured in France. Areva NP is supplying the nuclear steam supply system, instrumentation and control for the two reactors; Alstom is supplying the turbines.
The biggest construction contract has gone to a French-led joint venture. Bouygues TP/Laing O'Rourke Joint Venture (BYLOR) was selected four years ago for the main civils work contract, which is valued at more than £2bn.
Kier BAM Nuttall has a £203m earthworks contract to move more than 5.5 million cubic metres of material to create complex terracing structures and an expansive road network
Costain has a £200m contract to design and build the water cooling systems. Costain's team will design and construct three seven-metre-diameter marine tunnels, around 11km in total length, to take in cooling water from the Severn Estuary for the nuclear reactor before it is cleansed, recycled and returned.
Express Reinforcements has a £100m contract to supply BYLOR with 200,000 tonnes of reinforcing steel.
Premier Interlink has a £40m contract to supply 38,000m2 of prefab site accommodation. Almost 1,000 steel-framed modules are being manufacturer in East Yorkshire for assembly on site in Somerset. Premier Interlink says that there has never been a bigger contract for modular buildings in the UK before.
Other contractors involved include:
Cavendish Boccard Nuclear (JV) comprising of Cavendish Nuclear and France's Boccard – mechanical pipework and equipment installation
ACTAN (JV) comprising of Doosan Babcock and French firms Axima Concept and Tunzini Nucleaire – heating, ventilation and air conditioning
Laing O'Rourke – construction of workers' campus accommodation
ABB UK – power transmission
Premier Interlink WACO UK – construction of temporary buildings
Weir – large pumps for cooling water
Clyde Union – main pumps for feedwater system and cooling water system.
Somerset Infrastructure Alliance  (Skanska/RK Bell/Forest Traffic Services) – site infrastructure services including site road maintenance, landscaping, signage and fencing
COMA (Wessex Water/RM Utilities/Hydroline Solutions/MMES 2012/Boultings Group) – construction utilities including electrical networks across the site and support services
Somerset Larder (six Somerset food producers) – catering
HOST (four Somerset companies) – workers' campus accommodation management
Somerset Passenger Solutions (two Somerset companies) – transporting workers by bus.
On the professional services side, KBR is providing project management of site operations and equipment contract management; Jacobs is project manager for the building and civils work; Turner & Townsend is supplying project controls and project management; while Gleeds, Faithful & Gould and Mace are all providing contract management services.
Got a story? Email news@theconstructionindex.co.uk