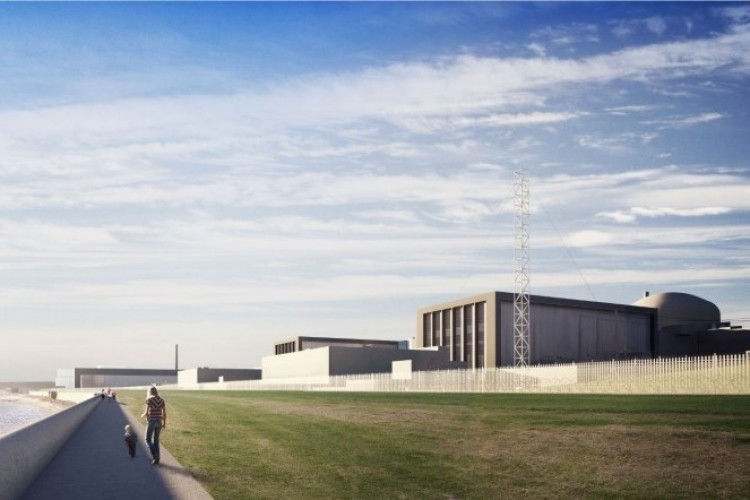 After months of delays, the board of EDF yesterday made the final investment decision to sign contracts to build the two nuclear reactors at Hinkley Point C (HPC). Very briefly, there was much excitement that construction could begin at last.
The grand signing ceremonies were all set for today until the new secretary of state for business, energy and industrial strategy, Greg Clark, said that he hadn't actually agreed to the project yet. While there has been no official statement yet, favoured journalists at BBC and ITN were briefed for the 10pm television news bulletins that ministers want to take another look at the project and will not sign anything off until the autumn.
Huge contracts remain on hold, including the £2bn civil engineering contract for Hinkley Point C, earmarked since 2012 for Bouygues Travaux Publics/Laing O'Rourke joint venture (BYLOR) and the £460m electrical package lined up for for Balfour Beatty/NG Bailey, plus a further £840m of business for other works packages.
The government's surprise review of the project comes despite successive regimes since 2008 having continually thrown their entire weight behind it.
We had been led to believe that Hinkley Point C was the cornerstone of the government's energy policy, set to produce 7% of the nation's electricity by 2026.
The National Infrastructure Delivery Plan 2016-21, published in March 2016 by the Treasury and the Infrastructure & Projects Authority, puts Hinkley Point C as a government priority, stating that it will be "the first new nuclear plant in a generation and provide low carbon electricity to six million homes".
More than this, under 'current status', the National Infrastructure Plan describes Hinkley Point C as 'consents approved'.
Amber Rudd, recently promoted from energy secretary to home secretary, said on 21st July 2015: "We are very committed as a government to making sure that we build new nuclear and Hinkley Point will be the first of those."
Since then, however, a new prime minister and a new secretary of state have taken office. Despite them both having been part of the previous cabinet that signed off the National Infrastructure Delivery Plan, they want another look at this project.

This very action casts doubt over the entire document. What, exactly, is the point of it now?
On 23rd March 2016 the chief executive of the Infrastructure & Projects Authority, Tony Meggs, said on publication of the National Infrastructure Delivery Plan: "This plan sets out details of infrastructure investment by government and the private sector across all sectors and regions. It describes not only what we are going to build, but also how we will prioritise investment and work with industry to improve delivery."
That statement is no longer accurate.
The Civil Engineering Contractors Association is worried about the implications of the government appearing to get cold feet at the last minute. "Government's decision to postpone its final decision on the project will create great uncertainty in the construction sector and the wider business sphere," said CECA head of external affairs Marie-Claude Hemming.
In other words, if a project as central to the National Infrastructure Delivery Plan as Hinkley Point C does not yet have the support of Theresa May's government, we can only conclude that the entire document should now be filed under fiction.
Concerns over the 3.2 GW Hinkley Point C project include the so-called strike price, the agreed price that the UK government will pay for electricity generated by the new plant to cover construction and operating costs and give the owner/developer a tidy profit. The agreed strike price is £92.50 per megawatt hour (MWh) in 2012 prices, adjustable for inflation over the next 35 years. This is widely considered to be somewhat steep.
Another concern is the unproven European Pressurized Reactor (EPR) design. The prototype is under construction at Flamanville in northern France. Construction started in 2007 and it was supposed to be up and running by 2012. It is still not finished and is already three times over budget. EDF says Flamanville is now scheduled to start up by the end of 2018.
The board of EDF, which is majority-owned by the French state, has not been united behind the Hinkley Point C project. Two directors have resigned already this year in opposition to the project, viewing it to be an unacceptable commercial risk.
To hedge its bets and help meet the costs, EDF sold a 33.5% share in the project to China General Nuclear Corporation last year. [See previous report here.]  While former chancellor George Osborne was red-keen to sell UK infrastucture to China, the new team's attitude is not yet clear.
Got a story? Email news@theconstructionindex.co.uk