The latest quarterly workload survey of the Federation of Master Builders (FMB) shows that members' workloads across Britain have begun to increase for the first time since the economic downturn began.
The data suggest there might be reason to hope that the longest deepest recession anyone in the UK construction industry has ever experienced may finally be coming to an end.
The FMB's state of trade survey shows the net balance for workloads, expected workloads and enquiries in the second quarter of 2013 was positive across most of the UK for the first time since 2007.
The number of respondents reporting a rise in workloads soared (34% vs 18%), while those indicating lower levels of workloads fell (23% vs 39%).
Firms also expect to see increasing activity over the next three months when compared to the previous quarter.
A greater proportion of respondents predict workloads to rise (29% vs 26%); while fewer firms anticipate falling workloads (21% vs 29%).

Only in Scotland is there cause for concern as a negative net balance of -26 was recorded there, showing that conditions had deteriorated during the three months to June. Overall though, the signs are that business confidence is starting to improve among SME builders.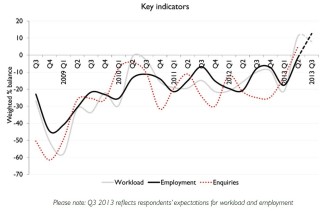 FMB chief executive Brian Berry said: "After one of the toughest and most sustained economic downturns since the Second World War, it is encouraging to see conditions may be easing for Britain's beleaguered builders. It is a testament to the resilience, work ethic and professionalism of SME builders, many of whom have had to cut their cloth accordingly and eat into their profits to maintain staffing and capacity in the hope that a better day would come.
"While these figures are a sign that the worst may finally be behind us, the building trade has a long way to go to get back to pre-2008 levels of employment and output, and there are many hurdles still to overcome. We must not be complacent, as consumer confidence is fragile at best. The FMB will continue its work to champion professional builders over the cowboys."
Mr Berry concluded: "It is now more important than ever that the Government acts to secure this nascent recovery. Policies such as the Green Deal and Funding for Lending schemes, which should have given a boost to construction SMEs, continue to underperform and aren't providing the improved access to finance and new work which they promised, while the FMB's recent report into procurement practices showed that public contracts too often remain unsuitably packaged and difficult to access for most small construction firms. Help to Buy is still in its early days, but seems to be having a positive impact on the property market. Ministers must now do more to meet calls from house builders to reduce regulation in order to get more homes built."
Got a story? Email news@theconstructionindex.co.uk