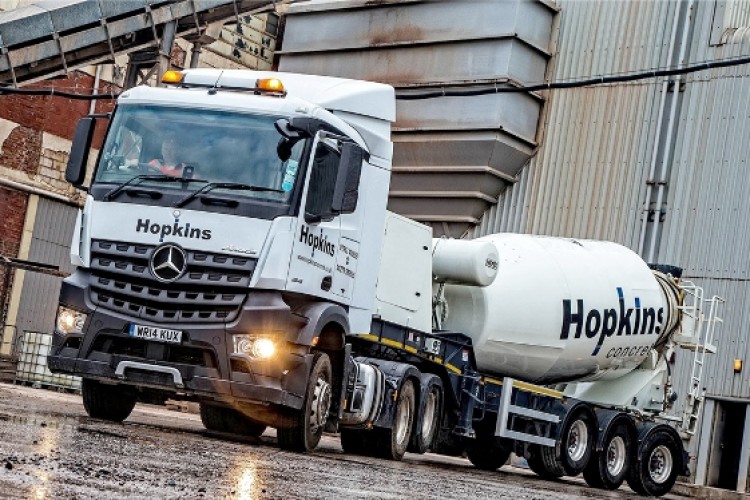 Hopkins Concrete is standing down most of its fleet of 60 trucks to replace them with new Arocs units.
It is the UK's biggest single order yet for the new Mercedes-Benz Arocs truck range.
Most of the trucks ordered will be Arocs 8x4 rigids with S day cabs and 290kW (394hp) Euro VI engines.
Of these, 25 will be Arocs 3240B models with lightweight Hymix mixer drums, and 20 will be 3240K tipper chassis fitted with steel muckaway bodies by Abba Commercials. The remaining five vehicles will be Arocs 2545 tractor units with StreamSpace cabs, 330kW (449hp) engines and mid-lift axles.
Hopkins Concrete operates from headquarters in Wincanton where it has invested heavily over recent years in modern batching and mixing facilities, and a second depot in Bridgwater.

Operations manager Ben Legg said: "Due to the nature of our work, we do not have the luxury of motorway trunking and, spending a lot of time on hills and country lanes, it is rare that we achieve the highest fuel figures. But the Arocs are typically returning 8mpg and sometimes a little more on the exactly the same runs where we were previously getting 6.5-7mpg.
"An improvement of that magnitude, if replicated across the entire fleet, is worth a lot of money to the business."
Also important to Hopkins Concrete was the body and payload allowance of the 8x4 Arocs mixer chassis. "Weight has become a major issue in the concrete industry, because as a result of Euro VI, trucks have inevitably become heavier," said Mr Legg. "But City West have demonstrated that with a bit of fine-tuning to the chassis, and with Hymix's lightweight bodies, we'll still be able to carry our standard, 8m3 load of concrete."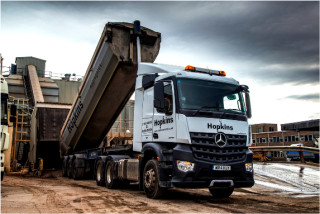 Got a story? Email news@theconstructionindex.co.uk