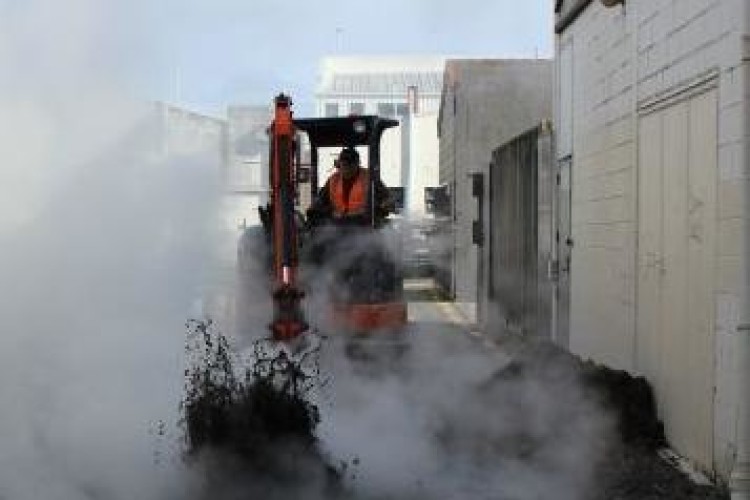 Contractors and Rotorua Lakes Council staff are having to shut down the unused inner city bore that blew its top yesterday.
A  digger has been clearing around the bore to enable workers to get a good look. Cold water is being pumped down into the hole to help cool the geyser enough to pour grout into the bore to shut it down.
"A check has found the bore was drilled in 1974 but we don't know when it was abandoned," said Rotorua Lakes Council geothermal inspector Peter Brownbridge. "The focus today is on getting a water flow down into the bore so it will die down and we can get into it to re-grout it and close it off."
A digger was brought in to clear some of the area around the bore so workers could get a look at exactly what they were dealing with. "We've established we are dealing with a bore, rather than a bore feeder pipe, which will be much easier to fix," said Brownbridge.

The council dealt with bore blowouts about twice a year and this one may have happened due to a sudden drop in the external air pressure, he said.
The unused bore was a low pressure bore and in the cold weather the blowout on Sunday appeared more spectacular than it actually was, said the council, creating a lot of steam over the top of nearby buildings and attracting onlookers.
"Dealing with bore blowouts is part and parcel of living in Rotorua, part of what makes this city so unique," said Brownbridge . "There's no reason to believe it had anything to do with anything changing in the geothermal field. "Rotorua is a lot safer now than just prior to the bore closures of the early 1980s."
Got a story? Email news@theconstructionindex.co.uk