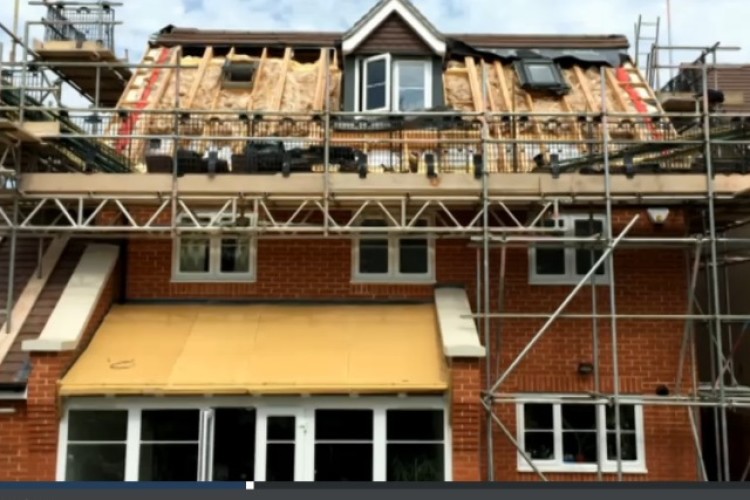 That was the takeaway message of a Channel 4 Dispatches television report last night (16 Nov 2015) that exposed the shoddy quality of Britain's house-builders and their unresponsive foot-dragging in the face of valid complaints from customers who have staked their live-savings on a dream home only to see that dream turn sour.
'Britain's nightmare new homes' interviewed several dissatisfied new home-owners. One had bought a new home from Morris only to find 140 defects. A Bovis customer found mould in her wardrobes within weeks of moving in because the house had been built in a wet winter.
But it was Taylor Wimpey that came out the worst when it came to absence of quality control. One couple were left shivering every night because the builders had forgotten, or not bothered, to put in loft insulation (see picture below). Another couple had no cavity wall insulation. Yet both homes were signed off and certified as highly energy efficient when clearly they were not, as later confirmed by thermal imaging tests.
Taylor Wimpey's customer service also came under fire. "Everything takes so long… everything's a fight," said a customer of his fight to get Taylor Wimpey to take any responsibility for its shortcomings and correct faults.

The National House-Building Council, whose warranty scheme is designed to provide reassurance for new home buyers, got off relatively lightly, telling the programme that it checks every new home at five or six stages. It escaped further analysis of why there were so many problems then.
Building inspectors also absolved themselves of any responsibility due to self-certification.
Wisest words came from retired site manager Philip Waller who told the programme about the financial pressures that sites were under when publicly quoted house-building companies are approaching the time to report their annual or half-year financial results. This means that in May, June, November and December the rush is on to get units finished quickly and this is when short cuts were most likely to be taken, he said.
The programme can be viewed for a limited period on Channel 4's online 'on demand' service at www.channel4.com/programmes/dispatches
Got a story? Email news@theconstructionindex.co.uk