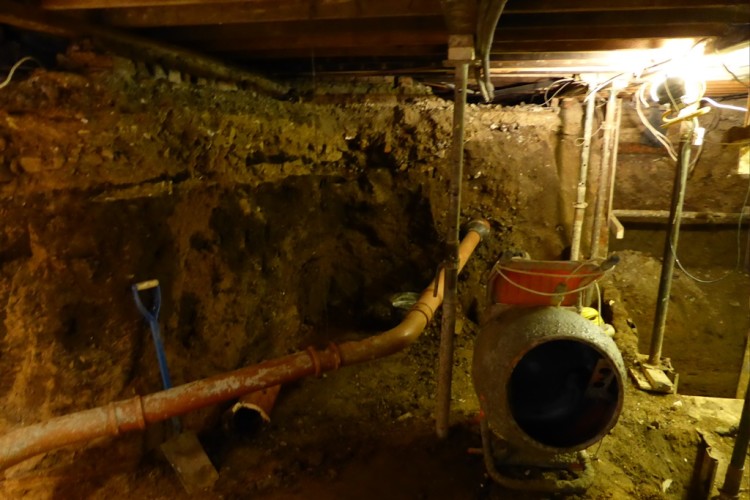 Darma Ltd was excavating a basement extension under a house in Filmer Road in Fulham when an inspector from the Health & Safety Executive (HSE) made an unannounced visit.
The amount of basement extensions being dug under houses in the capital has prompted concern at the HSE as several inspection initiatives have revealed that roughly half of them flout basic safety regulations, giving rise to severe risks of building collapse and subsequent fatalities. [See our previous report here.]
The inspection at Filmer Road found that Darma's workers were being exposed to extremely dangerous conditions on the site. They were being made to work in and around deep excavations of up to four metres in depth that were not properly supported. The HSE prosecuted.
Westminster magistrates this week fined the company £13,400 and ordered it to pay £4,719 in costs after admitting a breach of Regulation 31(1) of the Construction (Design and Management) Regulations 2007.
After the hearing, HSE inspector Dominic Long said: "Conditions on this site were appalling with deep unsupported excavations throughout the basement. This not only put the large number of operatives in the basement at risk of death but could also have led to the collapse of the building itself.

"Darma Ltd showed scant regard for the safety of the workers they were responsible for, it was extremely fortunate no-one was seriously injured or killed.
"HSE will take robust action against any company or individual putting lives at risk. This prosecution along with the level of fine demonstrates that companies willing to disregard the safety of workers should expect to face severe consequences."
On its website, Darma describes itself as "the capital's leading specialist in basement conversions, excavation and basement construction".
It claims: "We have evolved a method of planning, preparing and executing this work that involves a marriage of consultation creativity, technical expertise and uncompromisingly high standards of workmanship."
Got a story? Email news@theconstructionindex.co.uk