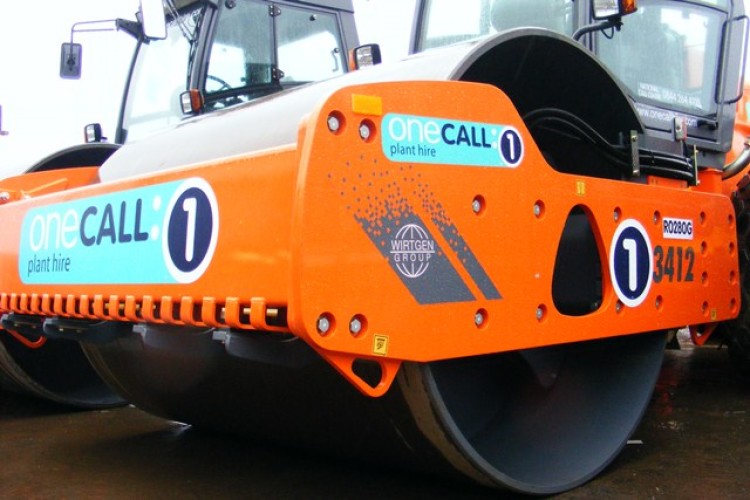 This is One Call's largest investment programme in its 40-year history.
The company operates from nine large depots across the UK and teams up with Nixon Hire for contracts north of Leeds.  The newest depot has opened recently in Oxford on the former Leach Lewis site.
The biggest spend is £20.2m on 430 excavators, which includes machinery from Caterpillar, Hitachi, New Holland, Komatsu and Kubota, all with Stage IIIB engines.
One Call Hire has also ordered its first Stage 4 final compliant excavators, the New Holland E75C, which will be delivered in September, 18 months ahead of the emission regulations timetable.
A £7.5m investment has been put into a new fleet of 361 dumpers. The company has also increased the number of machines in its large 7t & 13t self-propelled roller categories with orders going to Hamm and Caterpillar.
One Call Hire has also increased its plant range by entering the heavy lift telehandler market with the introduction of the 12-tonne capacity, 10m-lift Manitou MHT 10120. It has ordered 34 of these.
Joint managing director Martin Fitzpatrick said: "Our commitment to continuously invest in new and existing plant categories allows our machines to be more reliable, fuel efficient and comply with the most recent emissions standards. Contractors can hire from us with the knowledge that they are getting new machines providing increased productivity with substantially lower fuel costs which will help them meet their carbon emission targets."
He added: "The growth of the company has put us in a perfect position to invest in new machinery and will allow us to meet demand as the construction industry continues to slowly grow.
"We have seen an increase in demand for excavators and telehandlers reflecting a wider range of hire opportunities in our existing markets. This has caused us to invest in particular machines like the heavy lift telehandlers in response to changes in demand."
Delivery of the new machines to One Call's depot network began in January and will continue through to October this year.
The full list is:
Excavators

(£20.2m total)

Hitachi (231 units)

8t ZX85-5, ZX225US-5 (Reduced swing & 20% savings on fuel consumption), Latest Tier 3B engines (8t – 24t)

1.5t – 24t

£10.1m

CAT (165 units)

E series 305E, 308E, 312E, 320E

5t – 21t

£8.52m

New Holland (10 units)

E75C SRSP with Tier 4 final engines without DPF filters

7.5t

£511,000

Komatsu (4 units)

KX057-4

21t

£360,000

Kubota (20 units)

6t

£720,000

Telehandlers

(£1.0m total)

CAT (6 units)

TH337

7m

£216,000

Manitou (34 units)

MT 625 (30),

MHT10120 (4)

£836,000

Rollers (self-propelled)

CAT (2 units)

Hamm (12 units)

CS54XT, 3307, 3412

7t-13t

£750,000

Dozers

CAT (2 units)

D6T XL

£406,000

Dumpers

Terex, Thwaites, Neuson & Ausa (361 units)

£7.5m

Tandem rollers

Ammann & CAT (89 units)

Including the high compaction 1300mm width CB32. CS54, ARX12 & ARX26

£1.4m

Trucks

Volvo (10 units)

With folding rear ramps which drastically reduce fuel consumption.

32t, 44t & 60t

£986,000

Andover (5 units)

50t

£275,000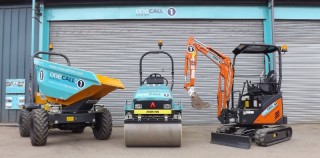 Got a story? Email news@theconstructionindex.co.uk