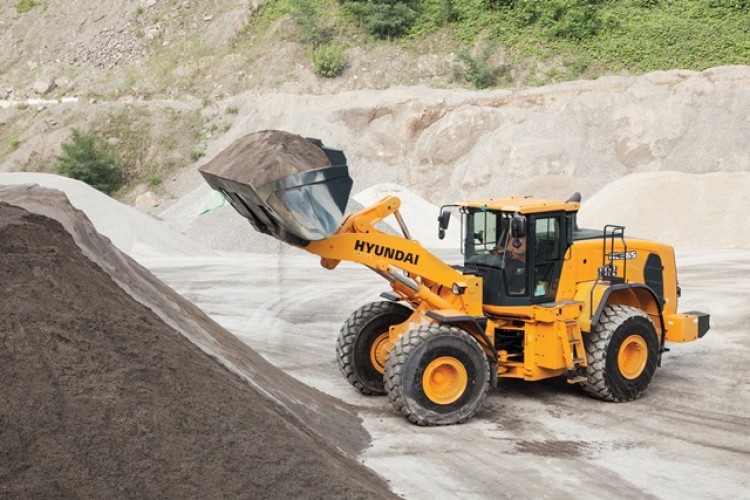 The new HL965 has an operating weight of 20,100 kg and is powered by the Stage IV Cummins QSL9 electronically controlled diesel engine with a gross power of 200 kw at 2,100 rpm.
The maximum axle load capacity is 44,000 kg at the front and 35,000 kg at the rear, with standard 23.5 R25, L3 tyres.
It has a new sound-proofed, air-conditioned cabin that Hyundai says is 10% larger than on the earlier -9a series and has an electro-hydraulic integrated control lever to minimise operator fatigue.
The seven-inch touch-screen monitor is like a smart phone display. The audio system has an integrated Bluetooth hands free feature, and a built-in microphone allowing the operator to take and make calls when in the cab.
The 'infotainment' system [providing both information and entertainment] also allows the operator to enjoy the Miracast system, which works via the WiFi of the operator's smart phone and enables easy use of the smart phones features on the big screen including navigation, web surfing, watching videos and listening to music.
The touchscreen monitor and EH controls allow several new features like 'Soft End Stop', 'Bucket priority' and 'Boom bucket detent mode', to be controlled through the touchscreen. The 'Soft End Stop' reduces the speed of the attachment near the end stroke to prevent movements ending with a thud. This function can be disabled through the monitor should the operator not want to use it.
The HL965 is also available in XT version, with a longer boom for a bigger dumping height.
Got a story? Email news@theconstructionindex.co.uk