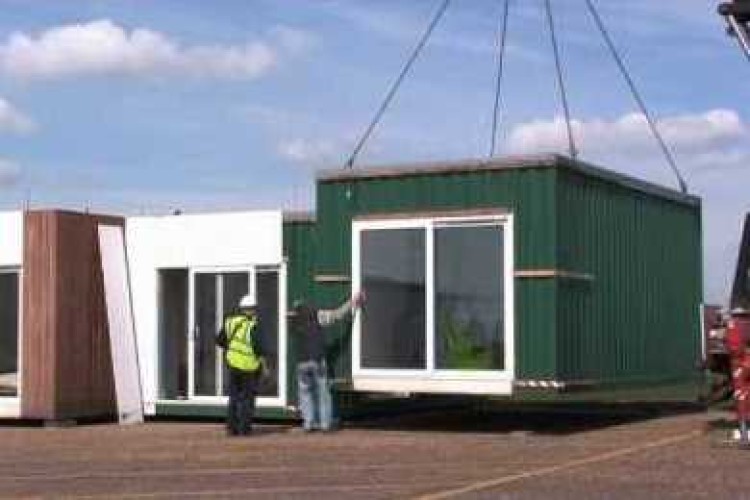 A report by the Institution of Mechanical Engineers (IMechE) says that modular construction could solve Britain's housing problems. It calls for government to provide more incentives for the use of factory-built homes. It thinks the key to this is opening up more opportunity to self-builders, local authorities and housing associations.
While this naturally conjures up visions of council tenants dumped into prefab huts, the IMechE report claims that prefab houses are better than traditionally-built bricks and mortar houses because it is easier to control quality in a factory environment.
Most 'volumetric construction' (the approved term for prefabrication) in the UK has been in budget hotels, student accommodation, fast-food restaurants, offices and hospitals. However, IMechE asserts that "family-sized modular dwellings are becoming more popular".
Dr Tim Fox, lead author of the report and fellow of the Institution of Mechanical Engineers, said: "Off-site construction technologies have advanced greatly in recent years and can offer shorter build times, better quality, better energy efficiency, less waste, and lower costs for buyers. People living in the UK deserve affordable quality homes and it is about time that consumers had more say on the quality, design and size of their homes."
The key recommendations in the report are:

1. Government should support investment in the UK supply chain for off-site construction technologies. The off-site industry needs support for innovation and expansion and needs the people and facilities to compete against imports. Government should help develop the skills and infrastructure required to grow this sector.
2. Building regulations and planning policies should prioritise sustainability and affordability by setting 'progressive and challenging' standards for energy and resource efficiency, through life-cycle assessment. Instead of winding down the Code for Sustainable Homes, government should be championing its further development, and integrating its principles into building regulations.
3. Government should 'work harder' to diversify the UK housing supply market, by opening up opportunities for self-builders, local authorities and housing associations. By 2020, these players should account for 50% of the new-build market.  By 2030, self-builders should be putting up 125,000 homes a year. There is an opportunity for the proposed garden cities to lead the way.
Read the full report: UK House Building Manufacturing Affordable Quality Homes
Got a story? Email news@theconstructionindex.co.uk