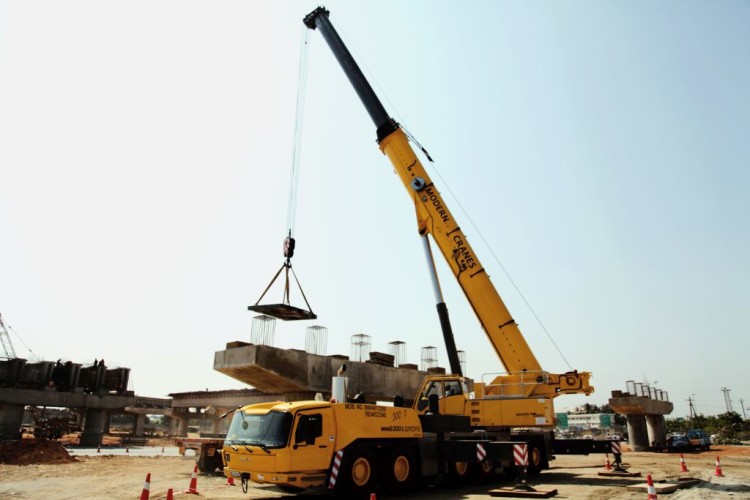 The 300t-capacity, six-axle mobile crane is manufactured at Manitowoc's Wilhelmshaven, Germany facility.
Infrastructure development in India has shown a demand spike in recent years and the Grove GMK6300L has been earmarked by Modern Cranes to support large projects such as bridge building, railway works and chiller erections in HVAC projects.
"Modern Cranes has a solid history of using Grove cranes and we continue to use them today because of their strong functionality, reliability and safety features," said Amin Ladha, partner at Modern Cranes. "The purchase of the Grove GMK6300L is reflective of the optimistic mood in India's construction market. Mindsets have matured following new government regulations in 2005, which require the use of safer and more reliable cranes in large-scale public and private projects. As safety norms in India evolve, we need to keep up with these changes."

The GMK6300L features a 15.6m to 80m seven-section full power boom with Grove's Megaform shaping and Twin-Lock pinning. Its Megatrak independent hydro-pneumatic suspension system enables the GMK6300L to operate as a all-terrain crane. Other features include a 12m to 21m hydraulic offset bi-fold swingaway jib, which has two 8m intermediate lattice inserts to boost reach, with an overall maximum tip height of 120m achievable.
Prem Naithani, sales director for India and the Subcontinent for Grove mobile cranes and Manitowoc crawler cranes, said that size, productivity and return on investment are the three most attractive attributes for customers when considering the GMK6300L. "The development of Modern Cranes' business highlights the upwards trajectory of India's construction industry," he said. "There are demands not only for more construction work, but for bigger projects and higher levels of productivity. To achieve this, customers are looking not only for larger and more productive machines, but also ones that deliver a better return on investment for them. This is what the GMK6300L offers and what's created its success, both in India and worldwide."
Got a story? Email news@theconstructionindex.co.uk