While there has been much media comment about the under representation of women at the top of the Queen's 2015 birthday honours list, construction industry women appear to have outperformed. Given that women are under-represented in construction as a whole, it is notable that roughly half of the industry figures recognised with medals are women.
There are OBEs for Judith Lowe, Emer Murnaghan and Gill Riley and a CBE for Melanie Leech.
Judith Lowe is deputy chair of the Construction Industry Training Board. She is recognised for "services to the construction industry, particularly women in construction".
Emer Murnaghan is business improvement manager at Graham Construction and member of the governing council of the Institution of Civil Engineers. Her OBE is for "services to the civil engineering profession and further education in Northern Ireland".
Gill Riley is co-founder and managing director of GGR Group, which supplies glass handling equipment to construction contractors, and also Unic Cranes Europe, which supplies Japanese mini cranes for hire or sale. She is recognised for her "services to construction". Her brother Graeme, who set up both businesses with her and is joint MD, has not been given any medal.
However, the higher gongs were largely kept back for the menfolk of the industry. Melanie Leech's CBE comes not for her work as chief executive of the British Property Federation, since she has only been there a few months, but "for services to the food and drink industry". She was previously director general of the Food & Drink Federation before joining the BPF.


There are CBEs for two prominent (male) civil engineers: Institution of Civil Engineers past president Geoff French, who was also chairman of Scott Wilson before its acquisition by Aecom; and Thames Tideway CEO Andrew Mitchell, for his previous achievements as Crossrail programme director.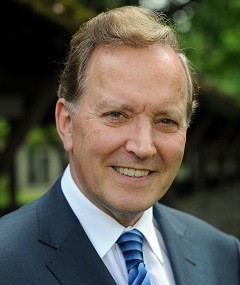 Biwater's Adrian White (pictured above) is construction's only new knight. He founded Biwater Treatment Ltd in 1968 at the age of 25 and remains the group's fully active chairman. Biwater has grown to 1,000 staff with a turnover of over £75m, and much of its key design work – from municipal swimming pools to city water and wastewater treatments plants – has been his own. He also owns a 265-acre vineyard in Dorking, Surrey, which produces more than 10% of the UK's annual wine output.
Other construction industry men on the birthday honours list include Mike Williams, lately principal inspector at the Health & Safety Executive, who gets an OBE for services to health and safety in construction.
Adrian Penfold, head of planning at British Land and author of the 2010 Penfold Review of non-planning consents, gets an OBE for service to planning.
Malcolm Ellis is awarded an MBE "for services to the building and construction Industry and to the community and charity in West Yorkshire".
Got a story? Email news@theconstructionindex.co.uk