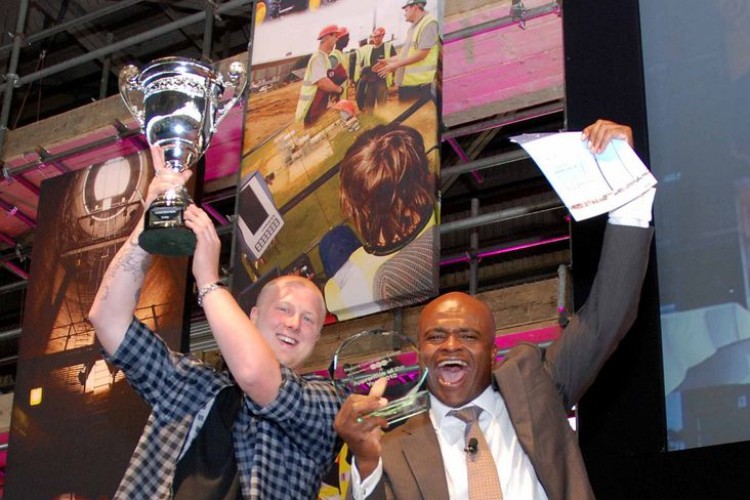 The NCC, which is the largest construction training provider in Europe, helped more than 260 students to achieve their apprenticeship frameworks this month, with 17 apprentices being singled out at the NCC East ceremony for being at the top of their trade. The awards, which are in their 11th year, celebrate the achievements of the Colleges' apprentices, whilst demonstrating the expert skill and determination that they possess to their peers, families and the business community. 
Nearly 500 people attended the celebration, including industry representatives such as ConstructionSkills Chairman James Wates, and National Construction College Director Andy Walder, in addition to the deputy Mayor and Mayoress of Kings Lynn, Trevor and Coral Manley.
James Wates opened the ceremony by welcoming the guests and commending the apprentices and college lecturers for their continued hard work, ambition and strength of mind. Guest speaker, Olympic medallist Kriss Akabusi, also captivated the audience with tales of his rise to success, through his career as an outstanding sportsman, television personality, businessman and charity founder.
Kent-based Jason Cade, 21, who is a plant mechanics apprentice with Carrier Rental Systems UK Ltd, took home the top accolade of Apprentice of the Year, which was sponsored by CSCS, in addition to the title of Top Plant Mechanics Apprentice.
As well as recognising practical and technical expertise, the awards also celebrate the skills which form an integral part of site life and success.  Patrick Cooney, 24, from London and an apprentice with Grounds Construction, received the Health and Safety award, which was sponsored by Skanska and recognises a commendable commitment to ensuring health and safety is a priority at all times.  The Key Skills award, sponsored by Sodexo in recognition of effort in the literacy and numeracy sections of the apprenticeship, was presented to 23-year old Adam Vero, from Norwich, who is a General Construction apprentice with NR11 Groundworks and Civil Engineering.
As the training division of ConstructionSkills, the NCC provides training to up to 30,000 apprentices and adult learners each year. National Construction College Director, Andy Walder, said: "Apprentices are the life blood of our industry and it is essential that we ensure excellent training and support is available to these bright and enthusiastic recruits who want to be part of our industry. We are very proud of our students and what they have achieved. These awards are a great way of celebrating this and set a benchmark for other trainees, as well as making their employers proud."
CITB-ConstructionSkills Chairman, James Wates, said: "These young people should be extremely proud of what they have achieved, as we certainly are. It is important to acknowledge the contribution they are making as they will make up the future of the construction industry, so it's great to know that they are setting off on a good footing.
"Although the industry is still facing challenging times, the long term forecast looks encouraging and we expect to see moderate recovery next year. We are also preparing for many new challenges, particularly around the low carbon agenda, which is why the work of our Future Skills Unit – which will ensure the industry has the qualifications it needs to meet the challenges of the future – is so essential.
"These new recruits will be an integral part of this low-carbon future and through the work of our Future Skills Unit, we'll be helping to ensure that they have all the qualifications and skills they need to thrive."
Got a story? Email news@theconstructionindex.co.uk