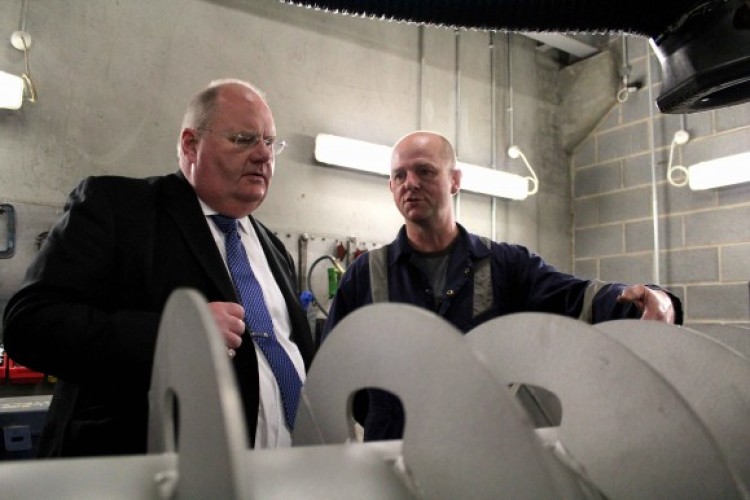 Communities Secretary Eric Pickles visited the city's local enterprise zone yesterday, where £25m of government funding is expected to leverage £94m of private sector money to lay down infrastructure for premier sites at Markham Vale and Rotherham to attract new businesses to the area.
Some £14m will go on the site at Markham Vale, where there used to be three coal pits. The enterprise zone can now expand its business park plans by 81 acres, widen Erin Road, put in place utility infrastructure and construct 100,000 square feet of new industrial buildings. When complete the site will have capacity to bring an estimated 2,100 jobs by 2022.
The other £11m government grant will be used to expand Rotherham's advanced manufacturing hub by building infrastructure foundations for Harworth Estates' 740 acre Waverley regeneration scheme – Yorkshire's largest ever brownfield redevelopment. Already home to Boeing, Rolls-Royce and others, the Advanced Manufacturing Park will eventually employ 3,500 workers – with 300 of those new jobs expected onsite by 2015.

James Newman, chairman of the Sheffield City Region LEP, said: "This £25m investment will help to further enhance the Sheffield City Region Enterprise Zone's status as the UK's number one place for modern manufacturing and technology.
"Our continued investment in vital infrastructure, like roads and drains, is helping to bring interest from new investors, which means more jobs and more economic growth in the Sheffield city region.
"Since the launch of our enterprise zone in 2012, 18 new companies have located to our enterprise zone with 345 jobs already created on site and around 300 set to be created in the coming months."
Got a story? Email news@theconstructionindex.co.uk