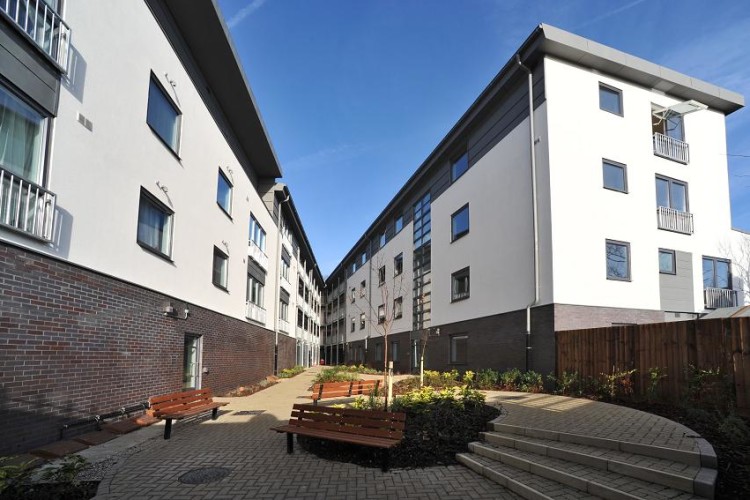 A restrictive site and lack of space for material storage posed a significant challenge on the project. Utilising the Innovaré i-SIP building system engineered and manufactured off-site, Osborne were able to mitigate these circumstances and construct 40 new flats and four houses along with seven new commercial units.
Original project designs were re-engineered to improve the thermal performance of the building and new designs included three storeys of i-SIP panels on top of a concrete frame structure. Innovaré were chosen for the build as its i-SIP building system could provide exceptional thermal efficiency with speed of construction benefits. This was vital on the scheme due to the lack of space for storage and the need for materials to arrive on-site and be assembled quickly and efficiently.
By redesigning the project using the i-SIP system, Osborne could eliminate the need for a new electricity substation that had previously been proposed. In addition to the improved thermal envelope of the building, the scheme also includes low air leakage gas fired boilers which meet the EcoHomes 'very good' standard and enhanced sound insulation to minimise the impact of the development's close proximity to a busy road.
The new properties are clad in brick, render and zinc to add differentiation to the scheme and create a modern development which meets the needs of the local community.

Paul Ensch, Operations Director for Osborne commented: "This was a particularly challenging scheme and one where we simply did not have the space to store a variety of building materials on-site. Innovaré's i-SIP system offered the ideal solution as deliveries were scheduled to match the build programme and the panels arrived on-site ready to be assembled. We're very pleased with how the project progressed and our client was delighted on completion of the scheme".
Andrew Orriss, Managing Director of Innovaré Systems explained that challenging schemes may become much more common. "Issues relating to space on-site and site access will become more prevalent as we look to develop more new affordable and private housing in urban areas, particularly in densely populated cities. Off-site construction offers tangible benefits to contractors and developers through a pre-determined build sequence and our i-SIP building system is ideally suited to meeting the energy efficiency requirements of affordable housing projects.
"This project also demonstrates the freedom available to architects when designing a building using SIPs. Differentiation between the properties has been achieved using a variety of renders and finishes, ensuring that whilst the scheme can take advantage of improved thermal performance, no compromise is required in terms of ambitious architecture."
Got a story? Email news@theconstructionindex.co.uk