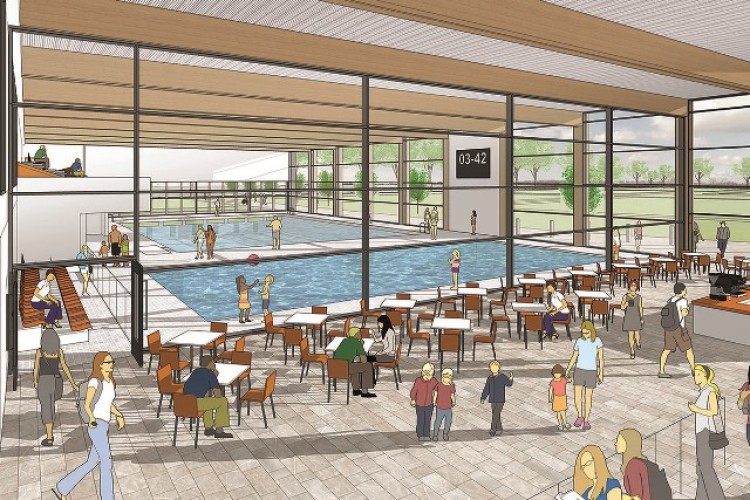 The Fleming Park Leisure Centre in Eastleigh is set to become one of the south of England's biggest leisure developments.
It is being designed and built by Interserve in collaboration with AHR Architects for Eastleigh Borough Council.
The building will be constructed with a steel frame and pre-stressed concrete floors, while the pool will be made with reinforced concrete. Externally it will be clad in brickwork, aluminium and zinc rainscreen.
Over the next 85 weeks the new centre will take shape alongside the existing leisure facility, which will remain in use during the build programme and then be pulled down once the new one opens.

The new centre will have bigger and better facilities, including: a sports hall with space for 15 badminton courts; an eight-lane, 25-metre swimming pool; a learning pool with adjustable floor depth; three multi-purpose studios; a group spinning studio; a crèche; and party rooms.
Eastleigh Borough Council leader Keith House said: "Interserve has shown a great understanding of the project and brings with it a depth of experience in building leisure centres. Interserve has a very good knowledge of, and relationship with, the local supply chain and is keen to work with us to ensure the new building achieves economic benefits locally. Interserve also wishes to work with us on recycling the old centre and believes it could recycle around 95% of it."
Interserve's UK operations director for regional building, Richard Ellis, said: "We are looking forward to delivering a modern and sustainable new leisure centre that will be a focal point for the local community, improving the health and well-being of residents for many generations to come."
Got a story? Email news@theconstructionindex.co.uk