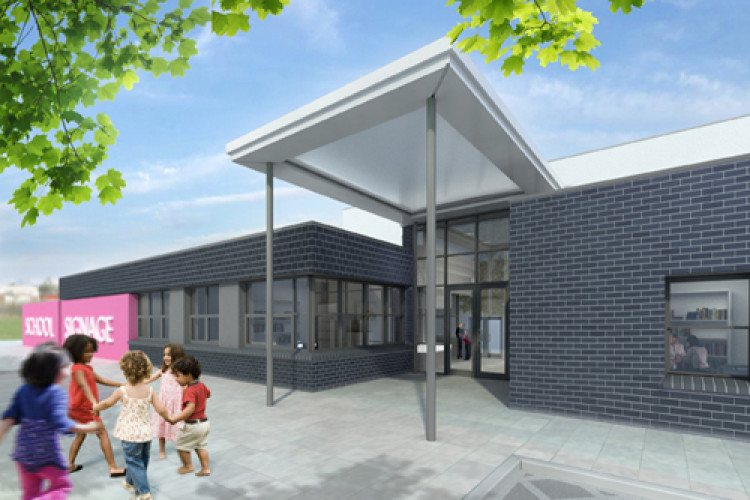 Architectural and urban design company Space designed Richmond Hill Primary School to use 80% less energy than standard UK buildings. Client is Leeds City Council.
Superior air tightness and insulation, coupled with an efficient mechanical ventilation heat recovery (MVHR) system will all contribute to the building achieving its Passivhaus certification.
The school has a Passivhaus air tightness target of 0.6 ACH (air changes per hour), which means the building must not leak more than 0.6 times its volume of air per hour at 50 pascals. This level of air tightness is well over ten times better than the current building regulations' requirement of 10m3/m2/hour at 50 pascals.
Thermal insulation will be enhanced, Interserve says, by its solution for the eradication of cold bridging between the building's piled foundations and steelwork frame, using high-strength insulation normally used in industrial process plant installations.
The walls and roof of Richmond Hill School will have U-values far exceeding the requirements of the current building regulations, Interserve said. Structural insulated panels (SIPs) manufactured off-site featuring polyurethane insulation will be used to form the structural fabric of the walls, and further SIPs with extra mineral wool insulation will form the roof. The materials will enable a U-value of 0.1W/m2K to be achieved for the walls.

Triple glazed timber windows, certified by the Passivhaus Institute, will also provide thermal insulation and keep air leakage to a minimum. The specific heat demand of the building will be less than 15kWh/m2/year and the primary energy demand less than 120kWh/m2/year.
Due to open its doors to more than 630 pupils in September 2012, Richmond Hill Primary School is being built as part of the Leeds Primary Capital Programme.
Interserve project manager Jim Shaw said: "Building to the rigorously tested high standards of Passivhaus is a challenge, and is testimony to the partnership approach of Interserve both with Leeds City Council and with our subcontractors. It is gratifying that Interserve is at the cutting edge of raising standards in school building for the UK."
As part of its scope of works, Interserve will also demolish the original school building, and lay a rugby pitch.
Got a story? Email news@theconstructionindex.co.uk