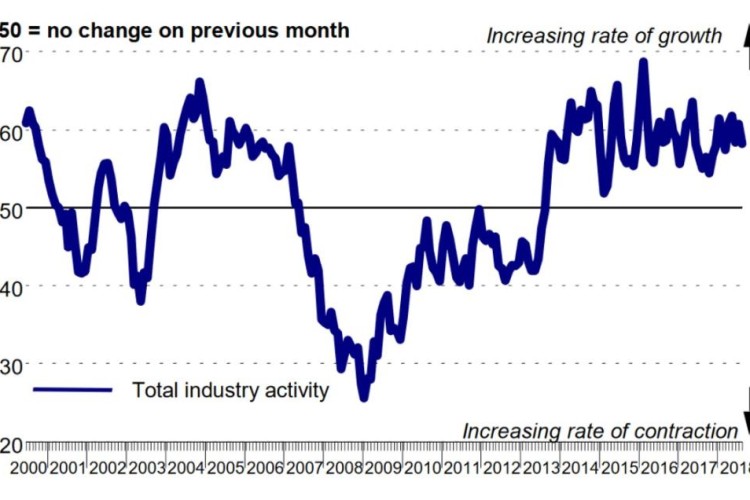 Growth remained elevated during August - despite moderating from July – with strong increases in housing and commercial activity. Higher workloads led constructors to increase their staffing levels and purchasing activity. Meanwhile, the rate of input price inflation quickened amid rising costs for a range of raw materials.
The Ulster Bank Construction Purchasing Managers' Index (PMI) – a seasonally adjusted index designed to track changes in total construction activity – posted 58.3 in August, down from 60.7 in July but still pointing to a sharp monthly rise in construction activity. The current sequence of expansion has now been extended to five years.
Simon Barry, chief economist Republic of Ireland at Ulster Bank, said: " Irish construction firms continued to experience very solid, though somewhat slower, growth in August according to the latest results of the Ulster Bank Construction PMI survey. The headline PMI eased back from what was an extremely elevated reading in July to stand at 58.3 in August, but this is still very much a level which signals ongoing rapid gains in activity. For the second consecutive month, all three sub - sectors registered positive growth, with housing remaining the strongest performing category."
He added that, while the Housing PMI pulled back a bit from what was one of its strongest-ever readings last month, this month's reading of 60.3 continues to point to very rapid expansion. The results suggest that robust growth in housing output is being sustained though the third quarter following growth of over 30% year-on-year in housing completions in the first half of the year.
"The August survey results were also notable as they marked the 60th consecutive monthly expansion of construction activity, indicating that survey respondents have now been in recovery mode for five years following the extreme collapse which took hold during the financial crisis," said Barry. "While a range of indicators (including employment and homebuilding) indicate that the recovery has further to go to reach more normal levels of activity - and the sector's outlook is not without its challenges (including possible capacity constraints) - firms remain confident about the sector's future prospects.  In particular, sentiment about the 12-month outlook remained strongly positive in August. Almost 60% of respondents predict a rise in activity, with new work on housing projects cited as a factor expected to continue to support the sector's ongoing expansion."
Data showed that activity on residential projects increased at the fastest pace of the three categories covered by the survey. The rate of expansion was substantial, albeit weaker than seen in July. The rate of growth in commercial activity also eased and was the slowest in the year-to-date, but remained marked nonetheless. Meanwhile, civil engineering activity rose for the second month running.

The rate of expansion in new orders eased for the third month in a row during August, but was still marked. Those respondents that recorded a rise in new business often mentioned strength in the housing market.
As has been the case on a monthly basis throughout the past five years, construction firms increased staffing levels in August. Companies indicated that hiring reflected rising workloads.
Higher new orders fed through to increased input buying in the sector, with purchasing now having risen throughout the past four-and-a-half years. That said, the latest increase was the slowest since March.
Rising demand for inputs put pressure on capacity at suppliers, thereby contributing to a further lengthening of delivery times. The rate of input cost inflation quickened to a three-month high, with the latest rise stronger than the series average. Panellists reported a range of materials as having increased in price.
Firms were confident that new work on housing projects will help lead to increases in construction activity over the coming year. Moreover, optimism improved to the highest in three months.
Got a story? Email news@theconstructionindex.co.uk