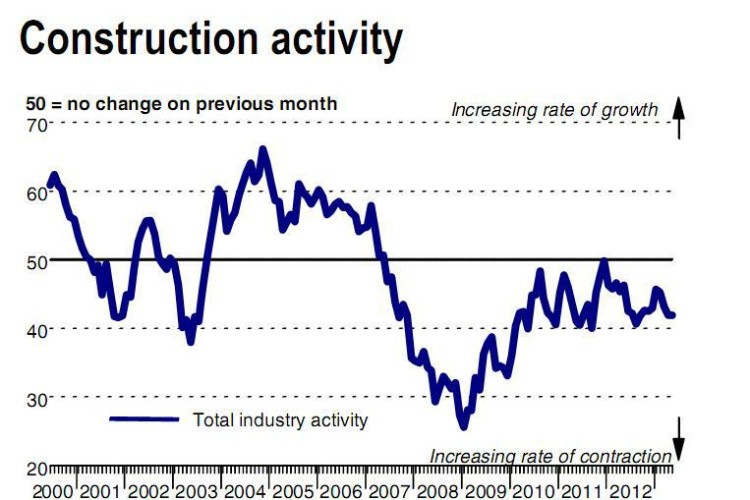 Employment and the usage of sub-contractors each fell at faster rates over the month. Meanwhile, suppliers' delivery times lengthened to the greatest extent since December 2005.
The changes were tracked by the Ulster Bank Construction Purchasing Managers' Index (PMI), which posted 42 in May, broadly in line with the reading of 41.9 in the previous month. This signalled a further sharp reduction in activity – anything under 50 represents contraction - and extended the current sequence of monthly declines to six years. A number of respondents noted that falling new orders and a lack of confidence in the sector had led to the latest fall in activity.
Simon Barry, chief economist Republic of Ireland at Ulster Bank, said: "The Irish construction sector remains very much in contraction mode, according to the latest reading of the Ulster Bank Construction PMI. Standing at 42 in May, the PMI was little changed from April, but remained well below the expansion-contraction threshold of 50, thus pointing to sharp, ongoing declines in activity. Those declines remain broad-based, as each of the major sub-sectors continues to experience contraction. Civil Engineering remains the weakest sub-sector, followed by commercial, while the pace of decline is not quite as pronounced in housing.
"Survey respondents continue to cite a lack of demand and strong competition as key headwinds and the result was a seventeenth consecutive fall in new orders - a trend which continues to exert downward pressure on staffing levels. Indeed, the pace of job-shedding in May was the fastest so far this year as clear evidence of a bottoming out of activity remains elusive."
Civil engineering was again the worst-performing sector, and was the only one to see a sharper reduction in activity than in April. Rates of decline remained marked across all monitored sectors, however, with the next-fastest reduction seen in commercial activity.

New orders decreased for a seventeenth successive month in May, with panellists reporting a lack of demand and strong competition for tenders. Although slightly slower than in the previous month, the rate of contraction in new orders remained sharp. Employment continues to decline With new business decreasing, constructors lowered their staffing levels again. The rate of job cuts was solid, and quickened over the month to the sharpest in 2013 to date.
Falling new work also contributed to another reduction in purchasing activity – the thirty-third in as many months. The rate of decline remained substantial as 36% of respondents signalled a fall in input buying during the month.
Despite lower demand for inputs, suppliers' delivery times lengthened. Furthermore, the latest worsening of vendor performance was the greatest since December 2005. Anecdotal evidence suggested that low stock levels at suppliers had been behind longer lead times in May.
The rate of input cost inflation eased for the third month running, and was the slowest in the current ten-month sequence of rising prices. Where an increase in costs was recorded, panellists reported higher oil prices.
Optimism with regards to the 12-month outlook for activity was recorded again, with sentiment broadly in line with the previous two months. Some panellists reported that they expect activity to rise in line with a modest improvement in economic conditions.
Got a story? Email news@theconstructionindex.co.uk