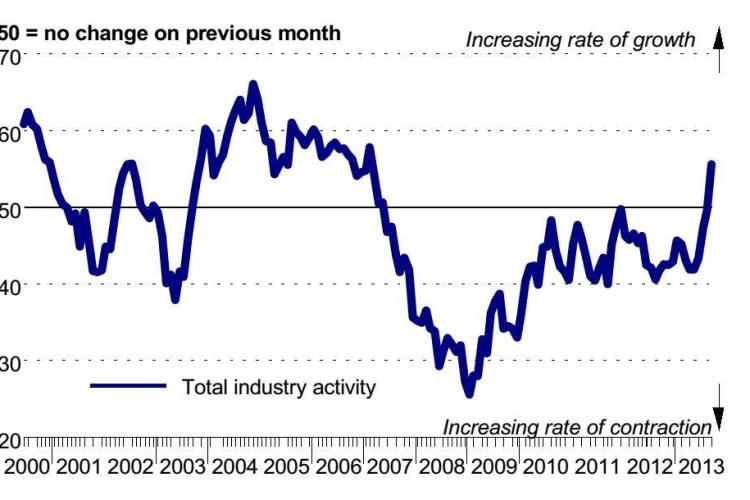 New orders expanded at a sharp and accelerated pace, leading to a growth in purchasing activity and a stabilisation of employment.
The Ulster Bank Construction Purchasing Managers' Index (PMI) is a seasonally adjusted index designed to track changes in total construction activity. September's figure of 55.7 – up from 49.7 in August – was the first to register above the 50.0 no-change mark since May 2007. Panellists reported that higher new orders and signs of improvements in economic conditions had contributed to growth of activity.
Simon Barry, chief economist Republic of Ireland at Ulster Bank, said: "The September results of the Ulster Bank Construction PMI provide further evidence of improved trends in the Irish construction sector. Significantly, overall activity rose for the first time in over six years, as the headline PMI index jumped by 6 points to get back to above the 50 breakeven level for the first time since May 2007. Housing was again the strongest sub -sector, as activity expanded at its fastest pace since December 2005 following a third consecutive above -50 reading. Commercial activity also saw an acceleration in its rate of expansion last month, and while respondents continue to report falls in civil engineering activity, the pace of decline eased to its slowest in some six years.
"The September results show that the nascent recovery in activity levels is producing a stabilisation of employment among survey respondents. The employment index rose to just over the 50 mark last month, breaking a sequence of declines in staffing levels that extends back to May 2007. However, firms reported that cost considerations continue to weigh on their hiring plans – an indication that respondents remain understandably cautious following what has been a brutal downturn for the sector. Nevertheless, forward-looking elements of the survey offer encouragement about future prospects. New orders recorded a third consecutive monthly rise as firms reported rising new business levels at home and overseas, while there was also a further improvement in busi ness sentiment, with optimism about the 12-month outlook reaching the strongest since January 2004."
The sharpest increase in activity was seen on housing projects in September, with the rate of expansion the steepest since December 2005. Commercial activity also rose at a marked and accelerated pace during the month. Although civil engineering activity continued to decrease, the rate of contraction eased sharply to the slowest in the current 70-month sequence of decline.

Contract wins in both domestic and overseas markets led to a substantial rise in new orders during September. New business increased for the third month in a row, and at the fastest pace since November 2006.
Rising workloads led to an expansion of purchasing activity, the first increase in just over three years. Furthermore, the rate of growth was marked. Construction firms' use of subcontractors also rose during September. The availability of sub-contractors fell back slightly, while they increased their rates charged for the first time since October 2009.
Employment stabilised at Irish constructors, ending a sequence of job cuts which began in May 2007. Those respondents that raised staffing levels indicated that this was largely reflective of increased workloads. Lead times on the delivery of inputs lengthened again in September, extending the current sequence of deterioration to 27 months. Panellists attributed this to low stock levels at suppliers and raw material shortages. That said, lead times lengthened at the weakest pace in three months. Input prices rose, following a marginal fall in the previous month. However, the rate of cost inflation was only modest and much slower than the long-run series average.
Optimism regarding the 12-month outlook for activity picked up to the joint-third highest in the series history in September. Predictions of improvements in economic conditions and more aggressive marketing were forecast to lead to higher new orders and activity over the coming year.
Got a story? Email news@theconstructionindex.co.uk