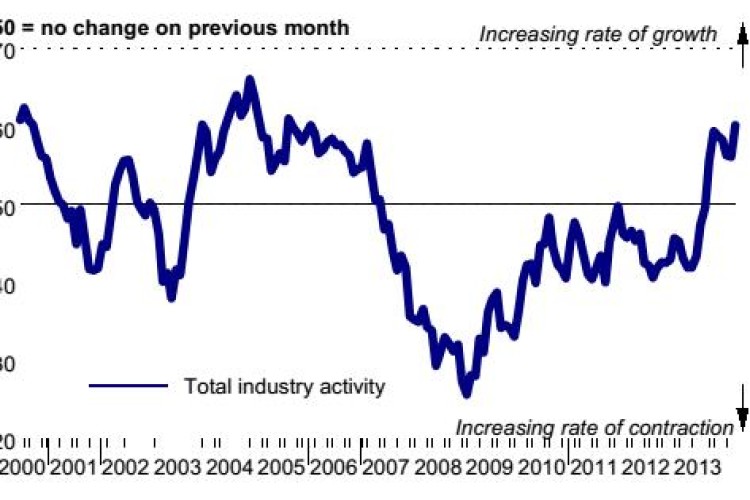 Improving workloads led companies to up their rate of job creation and sentiment remained elevated. Meanwhile, the rate of cost inflation quickened to the fastest in three months, according to the Ulster Bank Construction Purchasing Managers' Index (PMI) - a seasonally adjusted index designed to track changes in total construction activity.
The PMI rose to 60.2 in March from 56.2 in the previous month, to signal a seventh successive monthly increase in construction activity. Moreover, the rate of expansion accelerated to the sharpest since January 2006. Where activity increased, panellists mainly linked this to growth of new orders, while improvements in the housing and commercial sectors were highlighted.
Ulster Bank chief economist Republic of Ireland Simon Barry said: "The recovery in the Irish construction sector gathered pace at the end of the first quarter, according to the March results of the Ulster Bank Construction PMI survey. The overall PMI index jumped to 60.2 last month as the rate of expansion picked up to its fastest pace in over eight years. Housing activity continued to rise sharply in March with last month representing the ninth month in a row of expansion linked to residential projects. Commercial activity also continues to expand briskly, while the pace of decline in civil engineering eased for the second month running.
"Also offering considerable encouragement was a further strong increase in new orders last month which suggests that near-term prospects for a continued strengthening of the sector's recovery are healthy. Furthermore, the pick-up in both activity and new business is clearly underpinning a stronger appetite within construction firms to boost their staffing levels. Employment rose for the seventh month in a row last month, and at the fastest pace since May 2006. While employment in construction remains at depressed levels following the severe job-shedding which took place over the downturn, these latest trends are an important indication that improving workloads are translating into stronger, and badly-needed, job creation."
Both the housing and commercial sectors saw stronger rises in activity than in February during March, with rates of expansion at three-month highs in each case. Meanwhile, the rate of decline in civil engineering activity slowed for the second month running and was the weakest since last November.

New order growth quickened in March as panellists reported greater success in securing tenders. New business has risen continuously since last July, with the latest increase the fastest in three months.
Rising activity levels led construction firms to take on extra staff in March. The rate of job creation accelerated for the third consecutive month and was the sharpest since May 2006.
Companies also increased their input buying in response to greater workloads, following a marginal reduction in the previous month. The rate of expansion in purchasing activity was sharp. This rise in demand for inputs led to capacity pressure at suppliers during March. Consequently, lead times lengthened at a solid pace that was slightly stronger than seen during February.
The rate of input cost inflation picked up in March amid reports that suppliers had raised their prices during the month. The latest increase in input prices was the fastest in three months, but remained slower than the series average.
Strong optimism regarding the future prospects for activity was recorded again in March, with sentiment remaining only just below December's record high. Panellists cited general market optimism and predicted a continued rise in new orders would lead activity to expand.
Got a story? Email news@theconstructionindex.co.uk