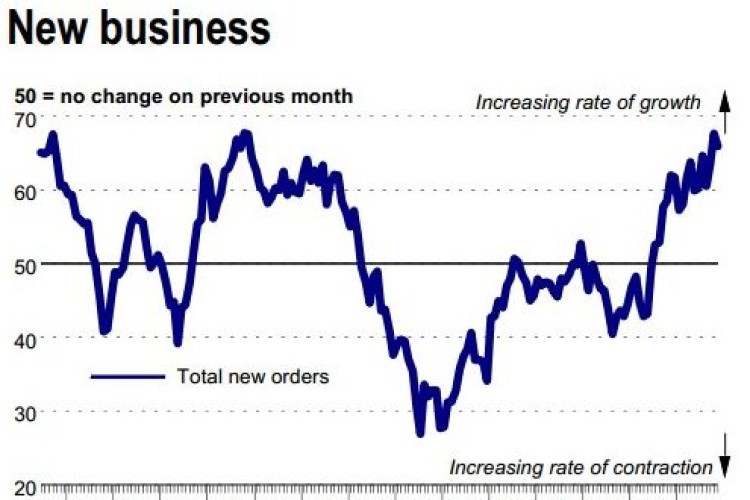 The Ulster Bank Construction Purchasing Managers' Index (PMI) – a seasonally adjusted index designed to track changes in total construction activity – registered at 63.5 in November, down from 64.9 in October but still signalling a substantial increase in construction activity in Ireland.
Furthermore, business sentiment reached a new record high amid optimism surrounding the Irish economy. Strong confidence was signalled by series-record optimism in construction firms in November. Sentiment improved markedly during the month and surpassed the previous record seen in April. Panellists indicated that the wider Irish economy is expected to strengthen further over the coming year, leading to further opportunities for growth.
Simon Barry, chief economist republic of ireland at Ulster Bank, said: "November was another strong month for the Irish construction sector, according to the latest results of the Ulster Bank Construction PMI survey. Activity continued to expand at a very solid rate last month, though at a slightly slower pace than in October. This brings the run of monthly activity gains to fifteen as the sector's recovery continues to gain traction, albeit from the very depressed levels reached during the downturn.
"Activity trends are being underpinned by substantial increases in new business flows, with companies attributing the latest expansion to general improvements in the construction market and stronger economic confidence. Indeed, overall optimism among Irish construction firms improved sharply in November in reaching a new record high for the survey which began in June 2000. Almost three in four firms expect activity to increase over the coming year, reflecting perceptions that the broader economic environment is set to continue to improve."
For the second month running, all three categories of construction saw rises in activity. The sharpest expansion was on commercial projects, closely followed by housing. Meanwhile, the rate of expansion in civil engineering activity quickened sharply during the month and was the fastest for eight years.

Those respondents that posted an increase in activity mainly linked this to higher new business. In turn, panellists reported that confidence in the wider economy and improvements in the construction sector had led new orders to rise. The latest expansion in new business was substantial, and extended the current sequence of growth to 17 months.
The expectation of improving workloads, allied with rises in new business, led construction firms to increase staffing levels.
Subcontractor usage rose at a solid pace, while their availability continued to fall. Furthermore, the decline in availability was the strongest since September 2000. This reduced availability enabled subcontractors to raise their rates sharply during the month.
Construction firms increased their purchasing activity in November in response to higher workloads. The rate of growth was considerable, and picked up to the strongest in four months. This rise in demand for inputs imparted capacity pressure on suppliers, resulting in a further lengthening of delivery times. The rate of input cost inflation quickened in November and was the strongest since March 2012. Panellists reported higher prices for metals and plastics, with exchange rate factors having led to rises in the cost of imported items.
Got a story? Email news@theconstructionindex.co.uk