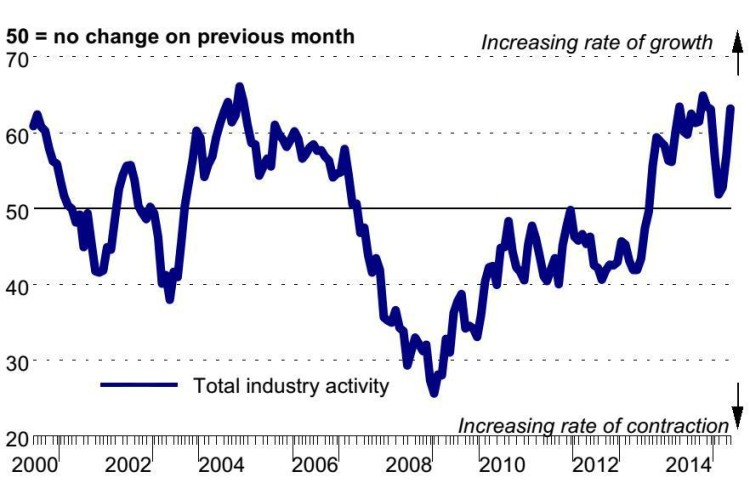 Rising activity was supported by strong growth of new orders with firms increasing their employment and purchasing activity accordingly.
The Ulster Bank Construction Purchasing Managers' Index (PMI) – a seasonally adjusted index designed to track changes in total construction activity – increased for the third month running in May, posting 63.3 from 57.2 in April. The reading signalled the sharpest increase in activity since November last year, with the current sequence of monthly expansion now extended to 21 months.
Simon Barry, chief economist Republic of Ireland at Ulster Bank, said: "The latest Ulster Bank Construction PMI report reveals a further improvement in business activity in May. Following a noticeable pick-up in April, activity rose sharply once again last month with the headline PMI index accelerating from 57.2 to 63.3 – its highest level since November of last year. This extends the construction sector's run of continuous expansion to 21 months.

"The detail behind the headline paints a similarly optimistic picture. For the second successive month a marked acceleration in activity was recorded in two out of the three major sub-sectors, namely housing and commercial, while civil engineering activity also edged higher, albeit a much less rapid pace. Respondents also reported a further pick-up in new orders which rose to 60.4 – its highest level so far in 2015. This resulted in firms adding to staffing levels in response to greater client demand with one in four panellists increasing their headcount last month. Moreover, sentiment about the sector's prospects over the coming 12 months also rose in May and remains at very elevated levels. Irish construction firms continue to envisage further activity gains on the back of a strengthening in the broader economy."
For the second month running, all three of the monitored sub-sectors posted higher activity. The sharpest increase continued to be registered on commercial projects, with the rate of growth the fastest in six months. All three sectors saw their rates of expansion quicken, but civil engineering activity continued to rise only modestly overall.
Higher workloads led companies to increase both their staffing levels and purchasing activity during May. Employment increased at a considerable pace over the month, with the rate of job creation at a four-month high.
Got a story? Email news@theconstructionindex.co.uk