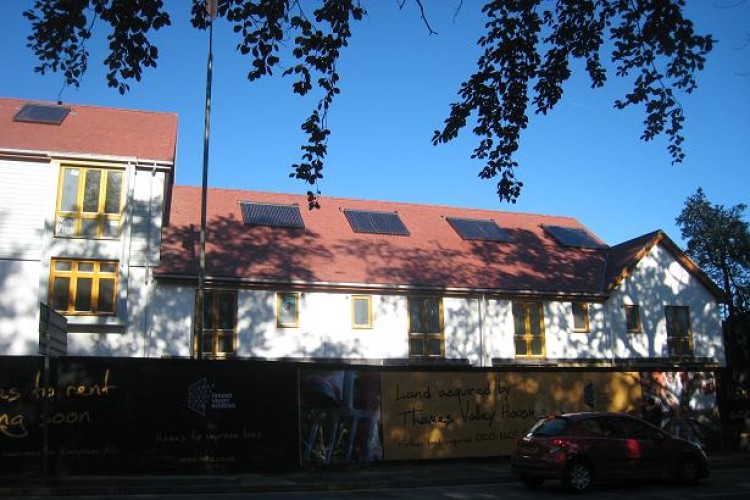 The Pinefields development used Isover's E-WM-17 proprietary Robust Detail, incorporating RD Party Wall Roll throughout the separating walls of the build to achieve the sound insulation levels of a minimum of 50dB required to meet the Code. 
Isover was awarded the contract through sub-contractor Masonry Frame Systems, which was impressed with the product's performance when used at a previous site in West Sussex.  The E-WM-17 incorporating RD Party Wall Roll was used in 100mm cavities within the separating walls between the apartments to achieve maximum sound insulation
Designed for new build residential constructions, Robust Detail approved construction E-WM-17 incorporating Isover RD Party Wall Roll provides unrivalled acoustic performance and greater cost saving opportunities for house builders. It is a dry finish solution, with no need for additional render/parge, therefore negating the need for wet trades on site.  Exceeding Part E Building Regulations, it achieves a minimum sound reduction of 50dB (DnT,w + Ctr) in 100mm cavities, as well as eliminating the need for pre-completion sound testing.
Norman Hinckes, managing director of Masonry Frame Systems commented: "By using the E-WM-17 Robust Detail construction with Isover insulation we expect sound reduction figures in excess of 55dB (DnT,w + Ctr), which will easily surpass the 53dB reduction needed to achieve the maximum credits under the Code for Sustainable Homes.

"Masonry Frame Systems has a long history of working with Isover's products.  We've used E-WM-17 at other sites and its acoustic properties were outstanding, so when we had the chance to influence the choice of insulation at the Addlestone development we strongly recommended this solution.  We are hoping to use this product again at a number of upcoming sites and are confident that the same build method and specification could be adopted to achieve Code Level Four without an increase in cost, making it one of the most effective insulation solutions available on the market today."
Manufactured under a Quality Assurance Scheme in accordance with EN ISO 19001:2008, Isover glass mineral wool is a totally non-combustible material and Isover RD Party Wall Roll has a Euroclass A1 fire rating.
Isover offers a range of high performance insulation products designed to meet thermal, acoustic and fire safety requirements for the built environment.  The company is committed to continuously improving the way in which its products and processes impact on the natural environment and is the only glass mineral wool manufacturer to achieve the maximum possible recycled content, 86 per cent, using glass that would otherwise go to landfill.
From product innovation and the sourcing of raw materials through to manufacture, distribution and installation, Isover, an ISO14001 accredited company, constantly achieves improvements in its environmental impact. The company's market-leading efficiency means less energy is used in the manufacturing process and the use of Isover insulation helps to reduce emissions.  Over a typical 50 year lifespan of a building Isover insulation will save 300 tonnes of CO,,, which equates to over 375 times more CO,,than is needed for its manufacture.  Products also boast ODP (Ozone Depletion Potential) and GWP (Global Warming Potential) ratings of zero.  The company's 3 Point Plan for environmental sustainability ensures that Isover and its products, in manufacture and when in-situ, use less materials, less energy and produce less emissions.
Got a story? Email news@theconstructionindex.co.uk