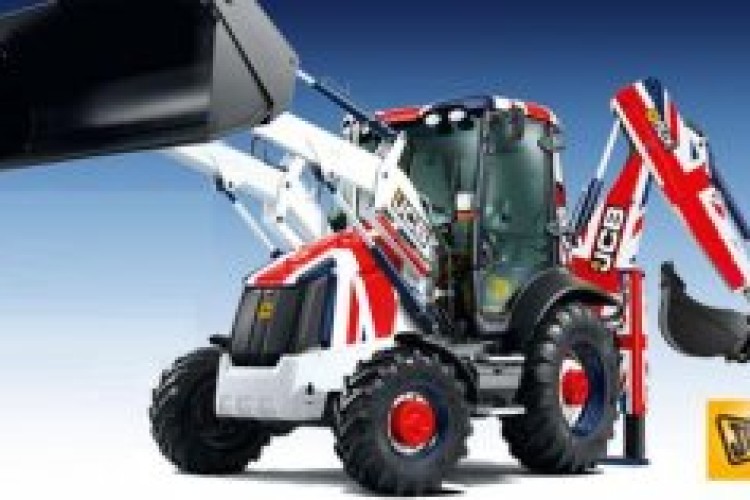 The online auction on the JCB website ran from 8th December to 21st December as part of a Christmas fundraising initiative in support of Help for Heroes, the British charity that supports servicemen and women wounded in conflicts around the world.

Fork Rent's managing director, Guy Nicholls, said: "I'm absolutely delighted that Fork Rent has secured the Union Jack 3CX Eco Backhoe Loader. It's such a distinctive machine and very fitting that JCB auctioned it to raise money for Help for Heroes.

We've got on our thinking caps on today at Fork Rent to come up with more ideas how it might be used again to raise even more funds for Help for Heroes, such as a John O'Groats to Lands End road trip maybe."

Yvette Henshall-Bell, UK and Ireland sales director at JCB, said: "It was clear from the bidding during the past two weeks that Fork Rent was keen to have the Union Jack 3CX Eco backhoe loader. I know they will be really pleased with the machine, and even more pleased to know that the money raised from the auction will be going to Help for Heroes to support our wounded servicemen and women this Christmas."

Bryn Parry, CEO & co-founder, Help for Heroes, said: "We at Help for Heroes (H4H) are thrilled that JCB decided to auction their exclusive Union Jack digger and well done to Fork Rent for securing the machine. The money raised will provide much needed funds to help our wounded heroes on their road to recovery, and if Fork Rent is able to use the Union Jack digger to raise even more money for H4H, that would be just fantastic."
A group of wounded soldiers joined teams from JCB and Help for Heroes, and over 100 representatives from the British construction industry, for the official launch of the auction on London's South Bank where a festive Christmas-themed 200ft barge was moored on The Thames, hosting two giant Christmas trees and a line up of JCB diggers, including the Union Jack JCB 3CX Eco Backhoe Loader, was lit up.

The barge, moored adjacent to London Studios remained in place until the auction concluded on 21st of December, sporting a banner inviting the general public to do their bit by donating by text message to support wounded troops and their families over Christmas.

The Union Jack JCB 3CX Eco backhoe loader was created as part of the recent launch of the company's new range of 'Eco' machines. JCB says that this model is 16% more-fuel efficient than its predecessor and saves owners more than £3,500 in fuel costs over a three-year operating cycle.
Got a story? Email news@theconstructionindex.co.uk