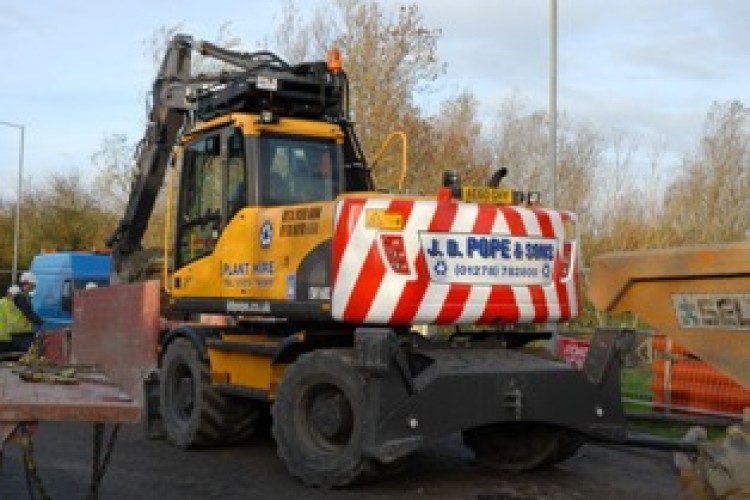 Established in 1960 by founder John Pope, the family business is now in the hands of sons Steve and Gary. Based in Burnham on Sea, it has diversified into general plant hire, subcontracting and, more recently, demolition, crushing and material handling. JD Pope has a fleet of 12 excavators, most of them Volvos.
 "We've been running Volvo equipment for some years now and primarily the after market support we've received over this time made our decision to replace the five year old EW160B an easy one," said director Steve Pope.
The 17.6t EW160C has a two piece boom with hammer/shear and rotation hydraulic circuits. The two piece boom was specified to help with jobs such as sinking sewer shafts and working in confined areas and trench boxes.
JD Pope has also fitted its EW160C with the Bandenmarkt wheel and tyre assemblies, previously fitted to their old B machine. When mated together the bespoke twin wheel and tyre assemblies mounted on each hub give the appearance of one giant super single tyre negating the need for stone rings, while maximising the floatation possibilities of the machine. "This is the third wheeled machine we've deployed these wheel and tyre assemblies and we're now on our second set," said Steve Pope. "We were able to achieve 11000 machine hours on our first set over two machines and they are certainly worth the investment."
Equipped with a two piece boom, the EW160C provides a digging depth of 6m and a forward reach of 9.7m. When it comes to lifting, hose rupture valves are fitted to both boom and dipper cylinders as standard and the maximum lift capacity at 3m radius is 6t.
Got a story? Email news@theconstructionindex.co.uk