By the end of 2014, Jewson will have installed up to 450 of its vehicles with a dropside fall restraint system and a bulk bag grab nip safety system to help prevent drivers falling from truck beds.
The dropside fall restraint system, called Safe-T-Drop, has been designed to act as a barrier on both sides and the rear of the vehicle. It acts as both a fall restraint and a guard. Jewson drivers can get into the back of the lorry if they need to and then once the delivery is complete, they can remove the restraint and replace the sides of the vehicle before driving off.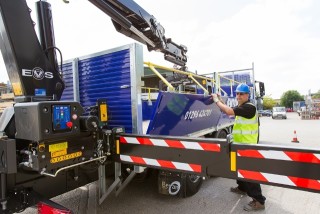 However, with the new crane bulk bag grab system, drivers no longer have to climb onto the truck bed to attach the hook to the bag. Now, the mechanism has been designed to be   strong enough to nip the load and lift it onto site.
Transport director Ian Berrill said: "Health & safety is the number one priority at Jewson, which is why we continually strive to find new and innovative ways of providing our colleagues and customers with the safest possible working environment. The combination of the two new vehicle safety systems will significantly reduce the risk to our drivers when making deliveries to site."
Got a story? Email news@theconstructionindex.co.uk