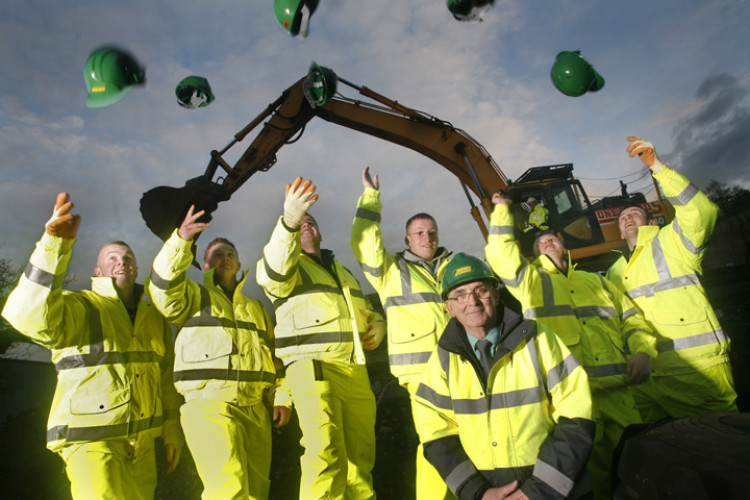 The new-look scheme means apprentices join the payroll and earn a wage from the outset as permanent Jones Bros employees.
Also for the first time, the apprentices will complete a 12-week introductory course at the company's purpose-designed training centre next to its Ruthin headquarters in North Wales, rather than at a national training college in Norfolk.
They will also train at the company's 100-acre quarry site at the Horseshoe Pass, Llangollen.
Instructor Myfyr Roberts said: "The great thing about this course is that youngsters can gain qualifications while learning on the job and taking a wage home.
"They are learning in Ruthin rather than having to go to Norfolk, which is fantastic as it means we are training our future workforce on our own doorstep."
The six trainees, aged 17-19, will learn how to operate various kinds of plant and machinery before sitting a series of verbal and practical exams.
If successful they will be despatched to work on one of Jones Bros' 20 ongoing projects around the UK, to continue their work towards an NVQ Level 2 qualification in specialised plant machinery operations (SPMO).
One apprentice, 17-year-old Edward Jones from Bala, said: "I knew I didn't want to work in an office so when I heard about this course I thought I'd go for it. There's a lot of paperwork to get through before we do the more hands-on stuff, but we're all enjoying the course so far and it's a good opportunity."  
Fellow trainee Stuart Roberts, 19, of Mold, urged other young people in North Wales to take advantage of the scheme by signing up. He said: "As an apprentice you get to learn lots of practical skills and get a qualification, and the company pays for all of your training and development. It's a good scheme for young people who want to learn a trade."
Ken Jones, training support manager at Jones Bros, added: "This is a major step forward for the company.
"Job opportunities for young people are few and far between these days.  Jones Bros has always believed in the value of apprenticeship schemes and has recruited youngsters to them every year.  
"This new full-time scheme underlines our commitment to training the young people of North Wales to become the region's next generation of construction workers."
Training manager Guy Brookes said Jones Bros was welcoming applications for the next intake to the apprenticeship scheme.
The apprenticeship scheme is also open to employees of other companies, and in many cases grant-aided assistance is available.
Guy added that the training centre would continue to offer tailored courses for external companies or individuals who sign up independently. As well as construction skills, specialised courses are available in everything from safety awareness to emergency first aid.
Got a story? Email news@theconstructionindex.co.uk