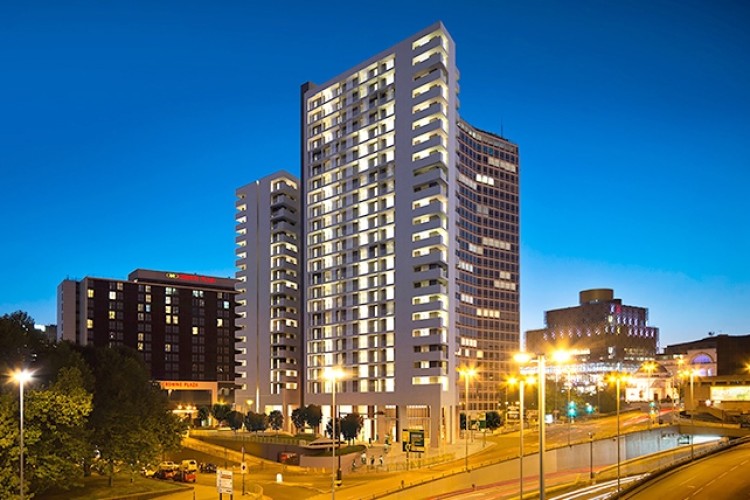 JS Wright will design and build the mechanical and electrical services for the Arena Central development of 323 apartments.
Galliford Try Building is main contractor for the £40m private rental sector apartment scheme, erecting two new tower blocks, of 17- and 22-storeys, next to the Alpha Tower in Holiday Street.
JS Wright will supply and install a cold water booster set and tank room, water sprinklers, above ground drainage, wet risers and a symphonic rainwater system. It will also equip all the apartments with hot water cylinders to provide mains pressure hot water and low-energy mechanical extract ventilation (MEV) for all wet rooms.
The contract also involves installing whole-house mechanical ventilation (MVHR) for the continuous supply of filtered pre-heated fresh air and purge ventilation to remove pollutants. It also extends to fitting direct expansion (DX) cooling units to directly cool incoming air in a number of the apartments.

JS Wright will also manage the design and installation of the electrical safety and security services for the development in association with its Birmingham electrical partner JT Hawkes (Electrical Contractors).
The services will include closed circuit television (CCTV), internal and external lighting including individual lighting, small power and electrical heating for each apartment, lightning protection, and cable containment. Fire alarms, smoke ventilation, access control and telephone systems are also part of the commission.
JS Wright will start work on site on the project in August 2017, with completion scheduled for February 2019. The 18-month project is the 10th that J S Wright has been awarded by Galliford Try Partnerships in the past eight years, the most recent being to design and install the mechanical services for 350 new mixed-tenure homes at Great Eastern Quays in east London's historic Royal Albert Basin.
JS Wright managing director Marcus Aniol, who earlier this year led a senior management buyout of the company following the retirement of the previous owners, said: "As one of Birmingham's longest established companies, we are delighted to be able to work once again with our longstanding partners in making such a major contribution to the city's ongoing regeneration."
Got a story? Email news@theconstructionindex.co.uk