He has been appointed non-executive chairman of Tidal Lagoon Swansea Bay Plc.
Mr Clarke said that the Swansea Bay Tidal lagoon development was an exciting project with global implications.
The plan for the world's largest tidal power plant involves the construction of a 9.5km-long sea wall around Swansea Bay to create a lagoon in the Severn Estuary. Turbines would harness the movement of the tide to capture enough renewable energy to power more than 120,000 homes for 120 years, the developers say.
The 320 MW project is being worked up by Tidal Lagoon Power (TLP), whose partners include Costain, WS Atkins and Dutch dredging firm Van Oord, plus a host of specialist consultants. TLP submitted a 5,000-page application in February for a development consent order (DCO) under the Planning Act 2008. It recruited former Laing O'Rourke director Steve Hollingshead as construction director in July. They are hoping to start construction next spring, with first power expected in 2018
Having more than doubled its head office workforce in the past year, Tidal Lagoon Power last week moved into a new head office in Gloucester Docks.  A team of 40 full time employees are being joined by up to 95 engineers from Atkins and Costain.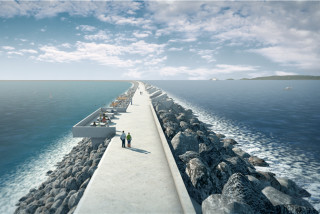 Mr Clarke said the barrage would "set the standard for a new kind of energy infrastructure and has truly global implications."
He said: "It is the right project at the right time for me and I am relishing the prospect of getting back into major project delivery and building a best-in-class team."
Mark Shorrock, of Tidal Lagoon Swansea Bay, said : "We want the Swansea Bay Tidal Lagoon to establish a blueprint for a series of tidal lagoons that allow the UK to harness its incredible range resource.
"Keith understands the challenges of building large infrastructure and the climate imperative to do so in a low carbon manner. And he has grown exceptional teams to achieve exceptional results."
Keith Clarke retired from Atkins in 2011 after eight year as chief executive. An architect by professional background, he previously worked for Olympia & York on the Canary Wharf development before joining Trafalgar House and its subsequent incarnations as Kvaerner and Skanska. He is a visiting professor at Imperial College and Aston University.
Got a story? Email news@theconstructionindex.co.uk