The purchase is part of a £1.5m machinery replacement and expansion programme, primarily for its quarrying operations.
The Bristol-based company has purchased two ZX210LC-5s, two ZX470LCH-5s, a ZX520LCH-5 and a ZX670LCR-5 in 2014.
In addition, over the past 12 months it has also added a ZX290LC-5 excavator and a ZW310 wheel loader to its fleet of Hitachi construction machinery, which includes a ZX70, two ZX350LC-3s and a ZX470LCH-3.
"Our replacement cycle for excavators was 6,000 hours before the economic crisis," said Alan Sparkes, whose father Kelston established the company in 1952. "We're getting back to this level, as the future is looking positive with several large construction projects due to start soon in this region."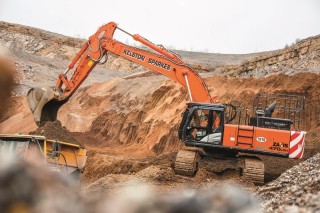 Alan Sparkes is co-owner of the company, with his brother-in-law Robert Stark. The core business is quarrying, supported by other projects including gravel pit, waste disposal, and flood and sea-defence sites. Quarrying now accounts for more than half of the company's £20m turnover and it estimates that it moves more than eight million tonnes of material each year.
Kelston Sparkes bought its first Hitachi – a UH09 – in 1977. "Hitachi has always been at the top of the market in terms of performance and reliability," Mr Sparkes said. "It is the number one manufacturer, especially for machines over 50 tonnes – and no one else comes close. We are very confident about the new Zaxis-5 range of excavators and they are already proving to be fantastic products."
Brian Smyth, who has worked as an operator with Kelston Sparkes since 1978, added: "I've been working with Hitachi excavators for over 30 years. I started with a UH063, before moving on to an EX120 and the more recent Zaxis machines… The ZX470LCH-5 is powerful, smooth and an excellent all-round package. I really like the layout of the machine from an operator's perspective."
Got a story? Email news@theconstructionindex.co.uk