Keltbray Rail Plant has borrowed the idea from the highways industry, where lights have been used for some time to create exclusion zone areas around equipment. But it is believed to be a first for the rail sector.
Keltbray Rail Plant undertakes much of its work at night; exclusions zones can be difficult to maintain and installing physical barriers is not always possible. The light system solves this.
Its fleet of 14 Colmar RRVs is being fitted with high-intensity blue lights. Shining onto the ground, they are directed to mark out illuminated exclusion zones required around the machinery for safe operations.
The solution was devised by Keltbray Rail Plant's piling delivery manager, Grant Fieldhouse, in partnership with Network Rail's construction manager, Justin Owens, for working on the Great Western line in Wales.
Paul Murphy, Keltbray Rail's operations director rail for Wales and Western, explained: "Where we operate heavy duty machinery, it is important to use clear safety signage to make people aware of dangerous equipment and the risk moving plant can pose to even the most experienced operatives. As we often work at night, signage is not always visible, and so we have adopted lighting to help operatives visualise the exclusion zone and reduce the risk of accidents.

"Grant and Justin had to find lights that have high vibration resistance to minimise downtime and the risk of lighting failure, and eventually found these in the USA, where they have been developed to protect factory staff working near moving forklifts. As a UK first, we have now fitted them to a Colmar T10000 heavy lifter RRV, which is working for Network Rail on piling works associated with electrification of the Great Western railway in Wales.
"These lights create exclusion zones of 10 metres to the side, back and front of the RRV are proving very effective. We are communicating this initiative through the on-site task and POS briefings and will be introducing this into all training plans for operators and staff."
These high-intensity blue LED lights will now be extended to all the other RRV in Keltbray Rail Plant's Colmar fleet over the next six months.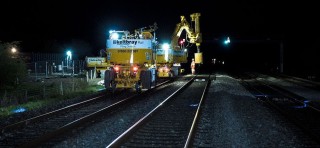 Got a story? Email news@theconstructionindex.co.uk