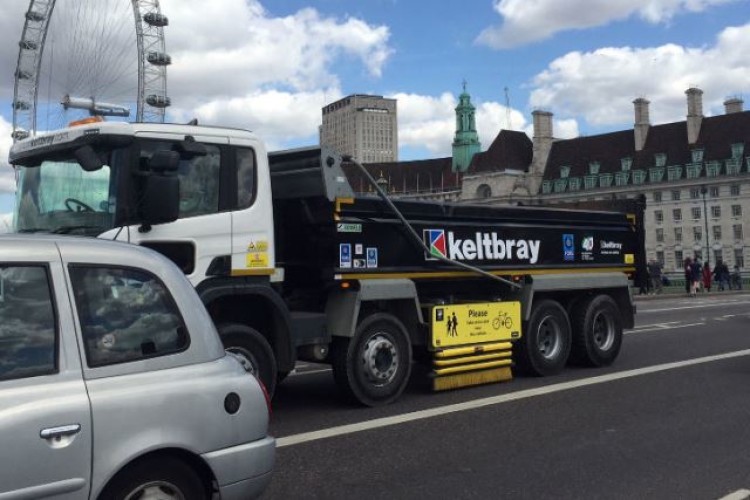 The DawesGuard shields the gap between the axles, preventing anyone falling under the rear wheels.
To make it suitable for trucks that need to go off road, the shield can be retracted or deployed at the flick of a switch from inside the cab.
Keltbray has also equipped the vehicle with the Dawes PeoplePanel, which are plastic panels fitted over existing under-run bars to reduce the risk of entanglement of clothing or bicycle parts.
The DawesGuard is the invention of a former Metropolitan Police motorcycle officer, James Dawes. As Dawes Highway Safety, he has spent the last three years working on pedestrian and cyclist safety.
Keltbray's head of haulage operations, Terry Good, said: "When it comes to the safety of our drivers and other road users we are constantly seeking ways to improve standards through training and investment in the latest safety technology. CCTV equipment is fitted to the front, offside and nearside of all our tipper trucks along with cycle and pedestrian sensor systems. Other safety features include side under-run guards, reversing cameras and white noise reversing sirens, cab operated air tailgate systems, front and rear strobe lighting and hydraulic load sensors.

"However, road safety is a continuous process, and so we keep investing in equipment to ensure that our vehicles are fitted with ever more modern equipment, and we are now very excited to trial The DawesGuard which we hope holds the key to optimising safety and preventing vulnerable road users from entering the danger zones underneath the truck. Flexibility and ease has been built into the system, which our drivers can deploy and retract with the flick of a switch."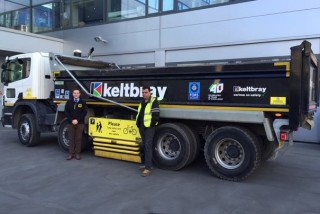 James Dawes said: "It's a real landmark day for Dawes Highway Safety to see the DawesGuard being trialled by Keltbray. They have been fantastic supporters of our design and are seeking to improve the road safety of their tipper fleet with innovative new technology as part of their commitment to road safety."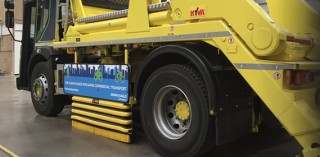 Got a story? Email news@theconstructionindex.co.uk