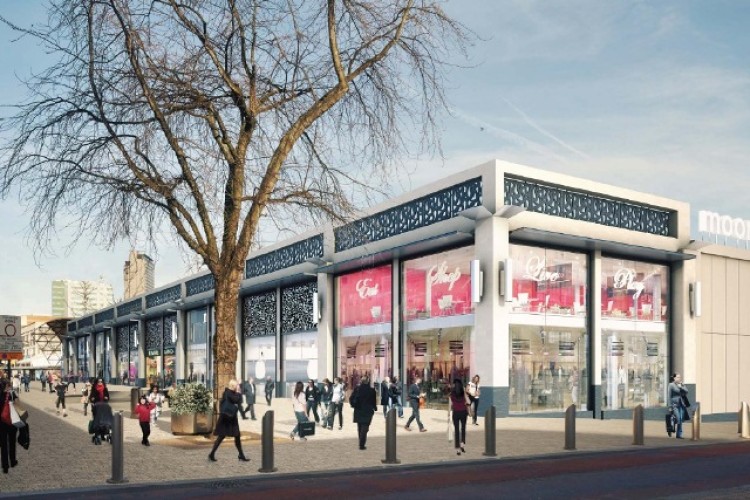 Joint client for the £17.5m project is Sheffield City Council and Scottish Widows Investment Property Partnership Trust (SWIPPT).
The development is on the corner of the Moor and Earl Street, which will occupy a full block on the Moor, one of Sheffield's main shopping streets.
Designed by retail specialist Leslie Jones Architects, the 79,000 sq ft Market Hall building will comprise up to 200 indoor stalls and will replace the Castle Markets that are now seen as run down and poorly located.
 The £17.5m contract is made up of three areas:


Moor Market - A single storey (double height) market hall with two storey associated trader storage, back-of-house trader facilities and a management suite. 
Shops – A two-storey eight unit block
Shared Yard – A single storey, open-air service yard with loading bays and incoming utility plant rooms for both the Market and Shops.
Market Hall will have a glass canopied entrance on the Moor and a timber and glass roof covering a single trading floor. The building will incorporate low energy cooling and maximum recycling of waste.
At the same time the council also announced North Midland Construction as preferred contractor for a £2.6m transformation of the public realm of the Upper Moor. This will complete the upgrading started by the council in 2010. These works will be funded by SWIPPT as part of a wider partnership with the council for regeneration of The Moor.
Work on both contracts is due to start in June 2012 and be complete by the end of 2013.
SWIPPT has also recently received planning permission for a further retail development at the Moorhead as well as for three new kiosk retail units and construction could also be started in the next year once pre-lets have been secured.
Got a story? Email news@theconstructionindex.co.uk