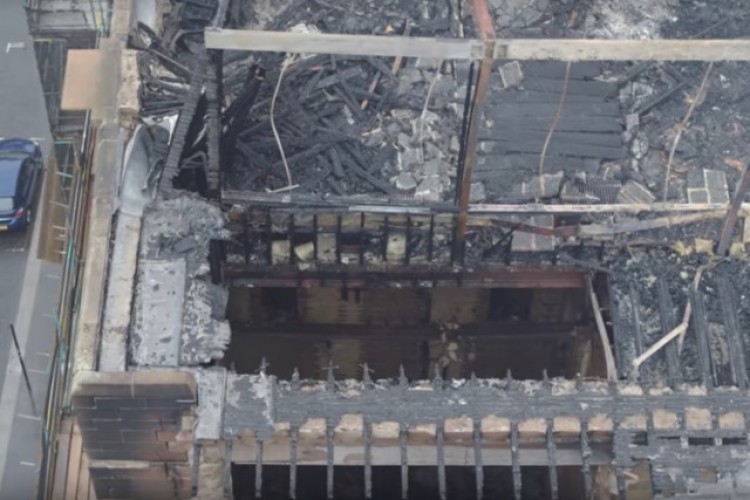 Kier Construction was undertaking restoration works on the building, a project necessitated by an earlier fire in 2014 that caused substantial damage.
Kier was appointed in June 2016 as main contractor to deliver the works for the restoration of the Mackintosh Building. At contract award, the value was approximately £25m and the works were scheduled for completion in January 2019.
After two years of work and completion in sight, a second major fire took hold in the Mackintosh Building at around 11.15pm on Friday 15th June 2018.
On 29th June Glasgow School of Art and Kier Construction issued this joint statement:  "Following the fire on 15 June, The Glasgow School of Art and Kier Construction Limited confirm they have jointly concluded that the current contract for the Mackintosh Building restoration will end with immediate effect. Both parties agreed that the current contract could no longer be fulfilled or completed. The Glasgow School of Art acknowledges the work Kier Construction Limited and its appointed sub-contractors had undertaken to date."

The School, working with its team of structural experts, has now had an opportunity to assess the structural integrity of the Mackintosh Building. Its new specialist site contractor, Reigart, has brought large mobile cranes on site to allow detailed close-up visual assessment of damage to the building.
The detailed visual assessment shows that damage to the Mackintosh Building is significantly greater than had initially been anticipated from ground visual assessment and the data from the drone and scanning footage (see below) that were undertaken last week.
Reigart, together with structural engineers, David Narro Associates, are using all this information to develop a plan of works to achieve structural stability of the building. This will be agreed with Historic Environment Scotland and Glasgow City Council Building Control.
"The plan of works will involve Reigart undertaking extensive down takings and potential structural bracing," the School said. "Due to the condition of the Mackintosh Building this work will be undertaken in a highly controlled way to minimise any potential risk of failure and be sufficient to achieve structural stability of the Mackintosh Building."
Got a story? Email news@theconstructionindex.co.uk