The Ram Quarter is being developed by Chinese property firm Greenland Group south of the River Thames in West London. The first phase includes 338 of the 663 new homes that will be built on the site.  
The development is on the site of the former Ram Brewery, most recently run by Young's until the brewery's closure in 2006. Brewing has taken place here since at least 1533. The new development maintains that heritage by incorporating the brewery's listed buildings, which will house a new microbrewery and museum.
The Ram Quarter will be delivered in three phases, with a total value of around £600m.
Greenland Group says that there will be a landmark residential tower and more than 9,500 square metres of shops, cafés, bars and restaurants. Some of the site's historic buildings will be restored and refurbished and the River Wandle, which runs through the site, will be spruced up as a central feature of this new public realm.
Kier will begin enabling works this month for the first phase, including river works and the construction of the basement. Kier is expected to complete the first phase in early 2017.

Working with project manager Gardiner & Theobald, architect EPR and engineer WSP, Kier will deliver:
411,000 sq ft of new build housing and retail space, laid out across nine blocks of between four and ten storeys
56,000 sq ft refurbishment and remodelling of the Grade II* listed brewery complex, transforming it into high quality restaurants, boutique shops, cafes and bars, a micro-brewery, a brewery museum and an additional 14 residential units
105,000 sq ft of basement car parking
An energy centre to serve the entire development's electricity needs
Realignment of 230 metres of flood defences along the River Wandle to open up the space and provide public access along a new riverside walk.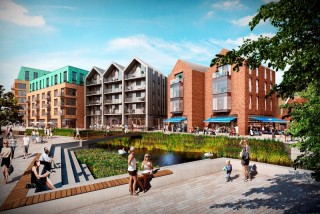 Kier managing director for major projects Colin Lamb said: "Kier has extensive experience in major mixed-use and regeneration projects in London, ranging from our longstanding involvement at King's Cross, to the delivery of the £72m Queensland Road scheme next to the Emirates Stadium, providing over 350 new homes; through to the £42m landmark development at One Howick Place in Westminster. Our breadth and depth of experience and the scale of projects that we can deliver has enabled us to become a partner of choice for major city regeneration projects. We are looking forward to working with the Greenland Group to deliver this flagship scheme."
Greenland Group general manager Wenhao Qian said: "We have assembled an expert and respected team to create every aspect of The Ram Quarter, the Greenland Group's first project in the UK.  We are committed to creating a vibrant new community, including an outstanding new public realm, which attracts visitors from all over London to the shops, restaurants and riverside walks in the heart of Wandsworth."
Got a story? Email news@theconstructionindex.co.uk