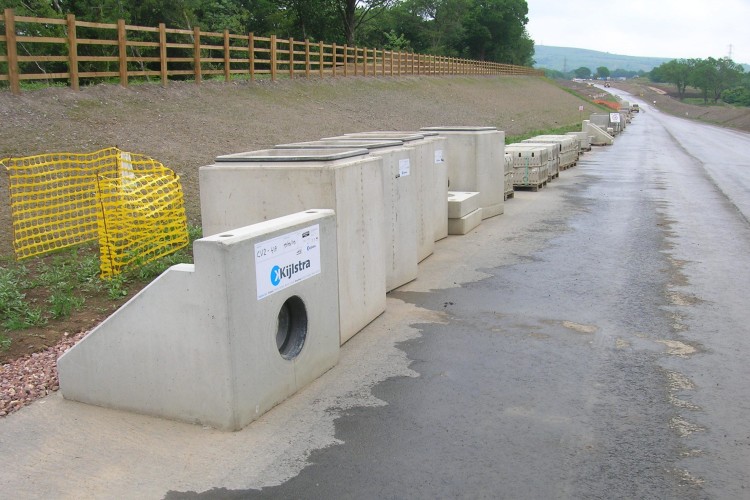 The contractor trialled more than 150 of Kijlstra's square pre-cast concrete manholes on the three-year, £90 million project – the largest highways project undertaken by any local authority in the UK – and will now use them on every suitable future project.
The Kijlstra system can typically be installed up to 16 times quicker than traditional systems on standard units. At Church Village, it took from as little as an hour for each system to be excavated, supported, bed prepped, transported to the precise location, installed and backfilled.
Manufactured from self-compacting concrete and poured monolithically with benching to guarantee optimum size consistency and strength, the system is combined with a perfect finish that gives a 120-year design life.
The new bypass was procured by Rhondda Cynon Taf County Borough Council and was funded by means of a Transport Grant from the Welsh Assembly Government. It runs through the basin of a valley, with a significant part intersecting wetlands and marsh area so the geography of the area made the drainage works a very significant part of the construction.
The Kijlstra manholes are located in various locations throughout the site that comprises seven kilometres of single carriageway, 1.5km of side roads, four roundabouts, one overbridge, one underpass, three footbridges and nine major culverts, with significant utilities interface and mine treatment works.
The project's roadworks manager John Lee said: "This project has presented challenging conditions but the many benefits of using the Kijlstra system meant we were able to counter these challenges throughout.
He added: "Product quality is excellent and as the system is factory-produced, quality is assured. As the manholes are benched and finished in the factory, once installed no further work is required which saves a significant amount of time. This also eliminates the need for confined space entry normally associated with finishing works required for traditional systems."
The project's drainage quantity surveyor Joshua Edwards added: "The system reduces volume of construction and helps drive down waste which makes our operations more efficient, leading to potential cost savings and improvements to the programme of delivery."
When asked why the project team chose to trial the Kijlstra manholes, Mr Lee added: "As a company, Costain is always looking to innovate to improve delivery to our clients and the Kijlstra system has helped us to achieve this delivery. Our aim is to use Kijlstra products on forthcoming projects where the full benefits of the system can be realised." 
Got a story? Email news@theconstructionindex.co.uk