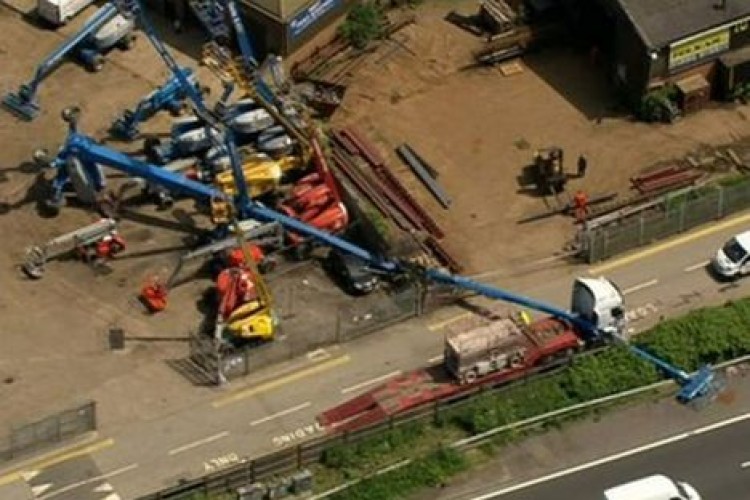 Rick Jaeger-Fozard, foreman at Kimberly's Iver depot, was killed on 5th June 2013 when the Genie Z-135 he was operating toppled over, landing over the depot's perimeter fence and onto the hard shoulder of the M25 motorway.
The Genie Z-135, manufactured by Terex, extends to 135ft (41m) working height.
Kimberly has now fitted a secondary safety device to all its Z-135 platforms that it said would have prevented the accident had it been fitted by the manufacturer in the first place. It is also introducing new handover procedures for these machines.
Kimberly chief executive Geraldine Unsworth, who took over on the retirement of Ray Ledger at the start of this year, has now written to customers seeking to reassure them that the platforms have been made safe.
We reproduce her letter in full below:
Dear Customer
As you know, the period since the fatal accident at our Iver Depot on 5th June 2013 has been challenging and traumatic particularly for those directly involved and of course Rick's family.
You will be aware that within an hour of the accident we put aside all financial considerations and took the decision to ground our remaining fleet of 24 Genie Z135's.
In accordance with the promise to keep you totally informed we are now in a position to inform you that we are emerging from this difficult period in positive shape and ready to press forward with our strategy to be the major operator of large booms in the UK.


During the past months we have been placing great emphasis on investigating the cause of the accident and reviewing all aspects of the Z135 operating systems under the guidance of independent forensic engineers who specialise in this work. As a result of a great deal of work and input we are well versed in the cause of the accident, the details of which we cannot comment on as this will be the subject of scrutiny by a coroners' inquest to be held in May.
We can however inform you that Kimberly and its engineering advisors have devised a secondary safety system which has been reviewed by independent bodies who conclude that had this system been fitted to the fateful Z135 then the accident would not have happened.
Furthermore, in order to continually improve the Z135 operating standards and to encourage our clients to adapt safer working practices, in readiness for the machines returning back to work we will be introducing new procedures and standards for the hire process and on-site handover of machines.
Let me make it very clear that the decision to put our Z135 fleet back to work has been taken with the primary and only emphasis being that they are safe to use, and only following the actions described in this letter. i.e. if we were not totally satisfied that the Z135 is now safe we would not be reversing our grounding policy and in fact we would have sold them.
Subject to completing certain self imposed hurdles and testing we are aiming to deploy the Z135 fleet on 1 June 2014 which out of total respect to Rick's memory and his family is after the coroner's inquest.
If you have any queries whatsoever regarding this letter, do not hesitate to call me.
Kind Regards,
Geraldine Unsworth, Chief Executive
Ealier this year we reported on Kimberly's frustrations at what it sees as shortcomings in a safety alert issued by the Health & Safety Executive on these boom lifts. (See report here.)
Got a story? Email news@theconstructionindex.co.uk