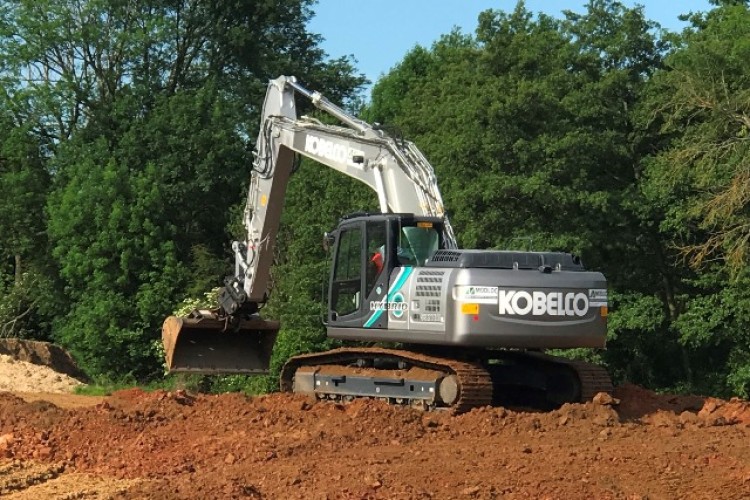 More than a decade after the prototype was first unveiled at a major trade show in France, the SK210HLC-10 has now finally been officially launched onto the European market by Kobelco Construction Machinery Europe BV (KCME).
At the heart of the Japanese-built SK210HLC-10 are two major power-drive units: a generator motor and a conventional diesel engine.
The use of a large lithium-ion battery allows a greater retention of stored electricity, Kobelco says, providing the necessary electrical output to the new Kobelco-developed 25 kW power-assist generator motor.
The second power source is a Stage 4 Hino Motors turbocharged diesel engine – the same engine that powers the conventional SK210LC-10.
The 25 kW power assist of the generator motor is comparable to the engine output of a five-tonne excavator. With the engine in low-to-normal loading, the generator motor reverts to charging the lithium-ion battery. Charging levels are displayed on the operator's in-cabin monitoring system. The stored electrical content also powers the new all-electric swing motor and gives greater control functionality in terms of response and smooth operation. Because the swing motor is electrically driven and not directly linked to the hydraulic system, engine load is unaffected and this contributes to the SK210HLC-10's exceptional fuel efficiency, Kobelco says.
Like the established Komatsu hybrids, Kobelco's electric swing motor is also regenerative – when the swing motor decelerates, it generates charge to the lithium-ion battery. Fuel efficiency is further enhanced through the use of electrical power-assist as opposed to a risen engine speed/performance and certain hydraulic pump functions. The SK210HLC-10 engine is designed to run at a consistent speed/load for most work applications and any further loading on the engine is off-set by power-assist from the generator motor.


With a reduction of 120 rpm in operating speed –1880 rpm compared to the conventional SK210LC-10's 2000 rpm – fuel consumption is again significantly reduced. When compared to the equivalent SK210LC-10, Kobelco test results show that 'H-mode' power output is the same but reduces fuel consumption by 12.3%, it is claimed, with no impact on digging ability.
The productivity level of the SK210HLC-10 (m3/litre) is increased by 14.2%, it is also claimed.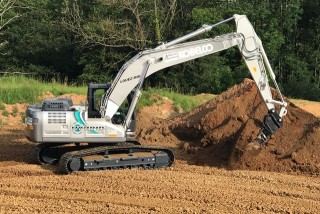 Kobelco product marketing manager Peter Stuijt said: "We are very pleased to finally launch the SK210HLC-10 after many years of innovation and development. Kobelco's original hybrid technology has improved significantly since we first displayed our hybrid prototype at Intermat 2006 in Paris. Our latest machine is working proof that Kobelco is a leading authority in hybrid excavator development.
"The SK210HLC-10 has one of the most technologically advanced systems of all hybrid excavators currently in the European market. Not only is it remarkable for being a hybrid in the competitive 20-tonne class but also for its exceptional ability to increase productivity levels while reducing operator costs. Reduced fuel consumption is a key feature of the SK210HLC-10, but to do so with improved working efficiency and performance is even more spectacular."
Got a story? Email news@theconstructionindex.co.uk