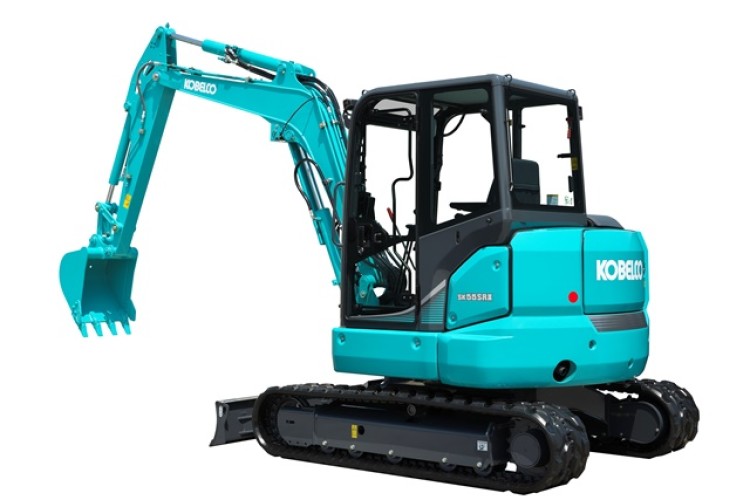 First seen on the recently introduced SR class of Kobelco construction machines, this dust filtration system, combined with engine cooling, puts the SK55SRX in the market for urban work.
Since the end of Kobelco's global alliance with Case New Holland, the Japanses manufacturer has been rapidly expanded its European product range. The new 5-tonne mini, made in Japan, features a number of technical innovations designed to improve work efficiency and reduce operating costs.
The SK55SRX has a new dozer blade design to minimise over-spill during levelling operations, thus saving time re-levelling.
Maximum tail overhang is 190mm, or 290mm when equipped with additional counterweight.
Although defined as a mini-excavator, Kobelco says that the SK55SRX has a new and slightly larger upper structure for optimum stability versus lifting performance. This also means the cabin area is expanded for improved visibility and operator comfort.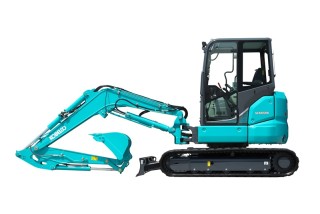 The SK55SRX is driven by the Yanmar 2.189cc diesel engine. A 23% fuel saving over previous model in class can be obtained with the machine in energy saving 'S-mode', Kobelco says.
A triple-oil pump system called Integrated Flow Pump System (IFPS) aids simultaneous fast and smooth work operation and contributes to improved fuel consumption from reduced engine workload.  This is the same system seen on the smaller zero tail-swing SK27SR, SK30SR and SK35SR models that were launched earlier this year.
See previous report at http://www.theconstructionindex.co.uk/news/view/new-mini-excavators-from-kobelco
Got a story? Email news@theconstructionindex.co.uk