Kosran developed its Safety Access Control (SAC) system to prevent unauthorised use of access equipment. It also doubles up as a telematics system, helping rental companies track usage and so better manager service intervals.
Kosran SAC, promoted by Nationwide as SkySentry, requires the user to enter a unique four-digit PIN code before the machine will activate. If the operator does not have the right number, the access platform remains shut down. The rental company or machine owner can allocate up to 100 PINs to each machine and thus monitor exactly who is using each machine and when. This also means that multiple contractors working on the same site can share machines and share billing according to usage.
The technology can be easily retrofitted to most brands of aerial work platform.
Kosran says that its SAC is the only technology on the market that provides remote control over both the aerial work platform and who can operate it. The telematic converter links the PIN-protected immobilisation system to any tracking device. The machine owner can view and remotely add or delete any authorised keypad PIN codes from a laptop, PC, or an App for smart phones and tablets.
The telemetry enables rental companies to track detailed information on machine usage and location, in real time. Kosran also produces daily and weekly reports, helping rental companies to identify each site's future machine requirements – and to accurately bill multiple contractors for their precise usage of each machine.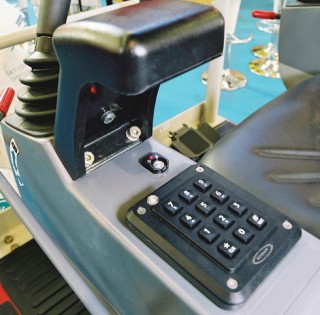 Kosran CEO Patrick Sheeran said: "The main driver behind developing SAC was to increase site and worker safety by preventing unauthorised use of aerial lifts by unqualified operators. However we have taken the concept further by combining it with telematics, creating the first system on the market that gives fleet owners complete remote control of their machines, including who is authorised to use them.
"This empowers rental companies to truly manage their fleets efficiently, meaning the system delivers ROI [return on investment] in as little as 60 days."
Nationwide Platforms, the UK's largest specialist powered access rental company, fitted 140 Kosran SAC systems to a fleet it has supplied to Skanska for the Royal Hospital (St Bart's) redevelopment in London. It allows Skanska to ensure that only suitably qualified subcontractors can use the machines. It also enables Nationwide to accurately bill the contractor and 22 subcontractors for the hours spent on each lift; and to keep a stock of machines on-site, confident that unauthorised users cannot operate these lifts.
Nationwide now has 500 Kosran SAC systems, all re-badged as SkySentry, working for Balfour Beatty at Heathrow Terminal 2 and for contractors on the Hydro, Crossrail and other infrastructure projects.
Mr Sheeran added: "Thanks to the feedback and engagement from Nationwide Platforms and Skanska, we know we have a proven, robust and high quality product that we can now take to market. Kosran SAC provides total control, improves safety, increases utilisation and reduces overheads, making it ideal for all plant hire companies, large and small."
Kosran is officially launching SAC at Vertikal Days 2013, the UK's leading event for the cranes and access industries, which takes place at Haydock Park racecourse on 26 and 27 June.
Got a story? Email news@theconstructionindex.co.uk