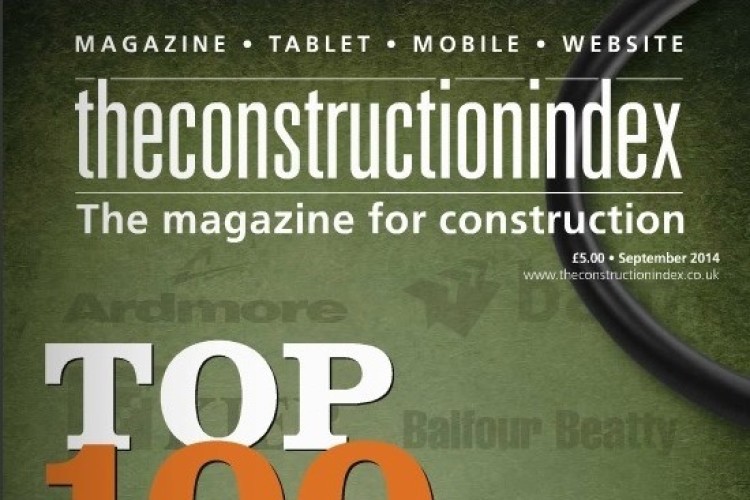 At the end of 2013, the construction industry was employing 2.12 million people – that's 6.5% of total UK employment according to The Office for National Statistics (ONS) Nomis Database for workforce jobs. This figure was 4.4% above the total number of people employed in the industry a year earlier, though it was still well below the peak of 2.32 million in 2008. By the end of June this year (2014) the year-on-year increase had slowed to 3.3%.
That construction should be a labour-intensive industry comes as no surprise. But it is graphically illustrated by the fact that while it supported 6.4% of all jobs in 2012, it only created 6.0% of economic output in that year.
The good news for the Top 100 contractors is that they appear to be avoiding this rising trend, indeed their labour resources have remained remarkably static over the past five years. According to their latest financial statements, they are employing only a few hundred more staff than they were last year or indeed they were back in 2008/09.  This matches their static turnover, which has risen by only 0.7% in the past year.  The total number of their employees is now just short of 295,000. Turnover per employee is £197,831, compared to £197,150 twelve months ago, a marginal increase of 0.3%.
Nevertheless, many commentators are forecasting a further substantial rise in construction employment, including the Construction Industry Training Board which now says that the industry will need to find over 40,000 new workers each year to service its growth predictions for the next five years. At the same time, skills shortages are being reported across the sector and the age profile of construction workers is rising dangerously close to a potential retirement bulge, suggesting that if the normal laws of supply and demand apply, the cost of labour must rise.
The day rate for bricklayers has increased this year from £120 to £180 and is heading towards £200 according to one house-builder, although this is of course in the busy house-building sector.
The hope is that any upward cost pressure can be ameliorated by increased productivity, since the ability of contractors to raise their prices is severely limited. In this respect, other labour statistics from ONS are a cause for concern. Output per construction job rose by 4.5% in 2013; but output per construction hour worked lagged behind this with a gain of only 1.1% between Q3 2012 and Q4 2013.

The clear implication is that people are working more hours, picking up the labour capacity slack that most pundits acknowledged existed after the commercial shake-out of the first two years of the recession. This is not a process that can continue indefinitely, so in reality the expected growth can only be managed through higher employment.
Finding and training this number of new recruits is going to be a very considerable challenge. No doubt some will be sourced from lower cost regions in Eastern Europe. Additionally, some additional resource may come in the form of an increase in self-employment, a phenomenon that has been highlighted in the most recent employment statistics for the economy as a whole.
No matter through which route the construction 'army' grows, there are already early signs of a negative impact on profitability from the stresses and strains in the labour market. The latest financial statements of the Top 100 contractors reveal that once the distorting effect of one individual company's abnormally high prior year loss is eliminated, profit per employee for 2012/13 fell by a huge 29% to just £3,060 from £4,328 the year before.
Pricing constraints and poor profit margins will of course have contributed to this outcome, but the effect of the growing pressure on labour resources will not have been negligible.
The overall picture that emerges from our analysis throughout this feature on the Top 100 is of an industry which has recovered from the recession, is set to grow substantially but which is struggling to make a sensible return despite being such a vital part of the economy. If it is to bid for the extra labour it is clearly going to need, then someone must pay the price. The real risk is that in a year's time we will be reporting another substantial fall in profitability, whether it is in absolute, relative or per-employee terms. Construction is a huge employer, but it is failing to make efficient use of the millions it employs. Something has to change.
This is an edited version of an article that first appeared in the September 2014 issue of The Construction Index magazine. You can read the full issue online at:
http://epublishing.theconstructionindex.co.uk/magazine/september2014.
To receive your own printed copy every month, in traditional paper format, you can subscribe by going to http://www.theconstructionindex.co.uk/magazine and scrolling donw the page or dialling 0845 128 9700 on a telephone.
Got a story? Email news@theconstructionindex.co.uk