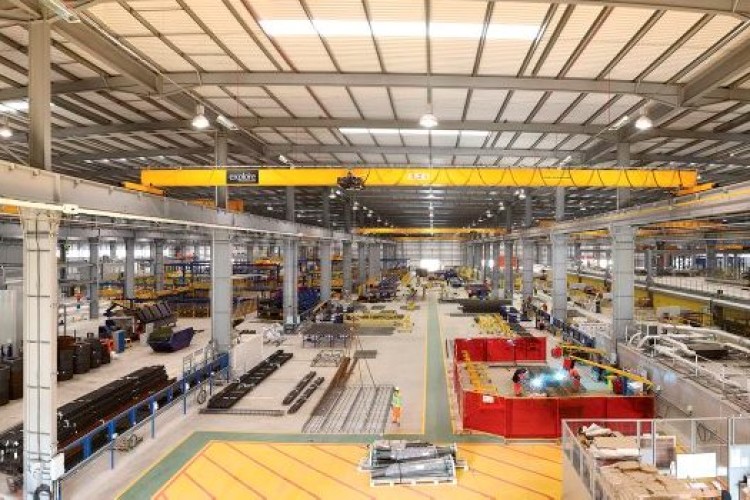 Nottingham Crown Court heard how on 8th July 2014 Richard Reddish, who was employed by Laing O'Rourke subsidiary Explore Manufacturing Ltd at its site in Worksop, was killed while working in the finishing area.
Explore Manufacturing supplies precast concrete components for projects up and down the UK.
Richard Reddish, 29, was working from a mobile elevating working platform (MEWP) removing the lifting attachments from the top of an 11-tonne concrete panel that was stored on a transport pallet. The panel started to topple, struck the MEWP and threw him from the basket. It also caused a number of other concrete panels to topple, one of which fell on top of him.
The transport pallets were supplied by another Laing O'Rourke company, Select Plant Hire, who shared responsibility for their maintenance with Explore Manufacturing.
An investigation by the Health & Safety Executive (HSE) confirmed that the frame used to secure the panel was not properly connected to the pallet, as a locking pin had not been correctly reinserted after the frame had previously been replaced, and there was no system of pre-use checks.

The pallets were also found to be in a poor condition, with defects including missing support bearers and stabilising legs. Other failures included the storage of large freestanding concrete panels in the finishing area, which should have been secured in storage racks, and a lack of sufficient planning. The investigation also identified concerns with the wider systems for the storage of concrete panels at the site.
Explore Manufacturing Ltd pleaded guilty to breaching Section 2 of the Health and Safety At Work Etc Act 1974 in that it failed to ensure so far as reasonably practicable the health, safety and welfare of its employees during the transportation and storage of the precast concrete panels.
Select Plant Hire pleaded guilty to the charge of breaching Section 3 of the Health and Safety at Work Etc Act 1974 in that it failed to properly maintain the transport pallets in operation at the Explore facility and thereby exposed the Explore employees to risks to their health and safety.
Explore Manufacturing was fined £2m and ordered to pay costs of £13,922. Select Plant Hire was fined £1.8m and ordered to pay costs of £13,922.
HSE inspector Stuart Pilkington said after the hearing: "This tragic incident led to the avoidable death of a young man, whose death could easily have been prevented if the companies had acted following previous warnings to identify and manage the risks involved, maintain the equipment, and put a safe system of work in place."
Got a story? Email news@theconstructionindex.co.uk