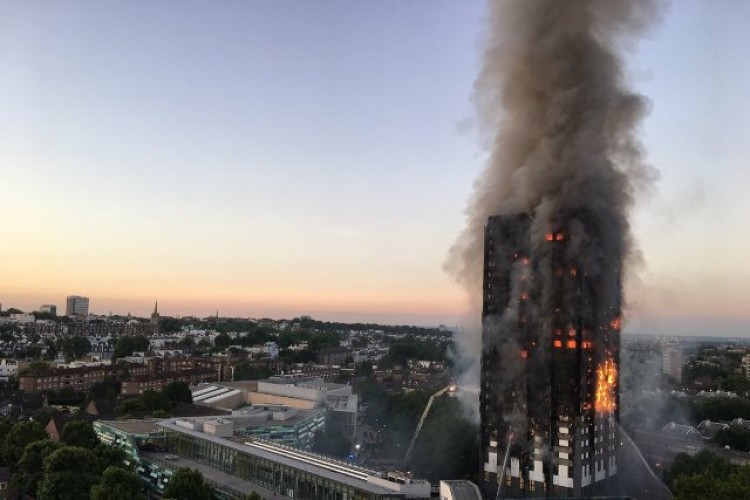 Hackney mayor Philip Glanville and housing director Kim Wright have warned other council chiefs that fire safety works carried out by Lakehouse, through subcontractor Polyteck Building Services, were later found to be defective, with incorrectly installed alarms and emergency lighting systems.
The have written the letter now because Lakehouse was also partially responsible for the fire alarms in Grenfell Tower.
"We have no evidence to suggest that work carried out on contracts to other councils by Lakehouse or its subcontractor Polyteck was in any way at fault, so we do not wish to cause undue alarm," they write. "However, we believe that as social landlords, after the Grenfell Tower tragedy, we must share any information with each other that could potentially help to keep our residents safer."
To make matters murkier, it emerges that there is also an ongoing fraud investigation relating to Lakehouse and Hackney Homes.
Lakehouse has rebutted many of the council's allegations and all of its insinuations.
In a statement issued last night it said: "Lakehouse confirms that its compliance business, Allied Protection, was engaged by Kensington and Chelsea in January 2017 to certify the appropriate working of its installed fire safety systems. Allied is satisfied the system was maintained in accordance with the requirements and all evidence presented to date indicates that it performed as it was designed to do.  Allied was however not responsible for the specification of the system.
"At this particular time, we are offering Kensington & Chelsea and the emergency services teams our full support with information and resources. Currently we have not been required to provide any information to an inquiry, nor has there been any inference of any contractual shortcomings on Allied's part.
"The press have queried why Lakehouse did not say anything after the Grenfell fire.  We were contractually compliant and had previously informed the market, on 17 May 2016 and 24 January 2017 that we were performing works for Kensington and Chelsea."

Lakehouse admits that it sacked two employees back in 2014 and sacked subcontractors after fraud was uncovered relating to overcharging Hackney Homes, something it was open about in a March 2015 company prospectus.
"At no stage has there been any suggestion of fraud on Lakehouse's part," the company says. "Lakehouse continues to co-operate with the Metropolitan Police in bringing the culprits to justice and the investigation extends not only to certain former rogue employees of and sub-contractors to Lakehouse, but also representatives of Hackney.
"There has never been any suggestion of wrongdoing on Lakehouse's part, nor compromise in the interests of resident safety.  Importantly in this regard, the press reference that Hackney drew the attention of the police to alleged sub-standard works is factually incorrect.  Further, the Group can confirm that the £540,000 exceptional gain, reported on 27 June 2017 under 'impairment of receivables' in our interim results to 31 March 2017, related to a series of successful adjudications by Lakehouse against Hackney for works Hackney alleged were defective and were determined to be fully due and payable.  We continue to pursue Hackney for further sums which we are due contractually and for which they have refused to make payment to date."
It concludes: "Naturally our thoughts are with the families and residents who have been impacted by the Grenfell fire.  Lakehouse is a leading asset and support services group and operates to the highest standard of resident safety and client confidence. We have found the past week highly disappointing, but will not be distracted from continuing to provide a high level of service to clients and residents alike and support them during this difficult and traumatic time."
Hackney Council's letter to local authorities can be seen below (click on image to enlarge).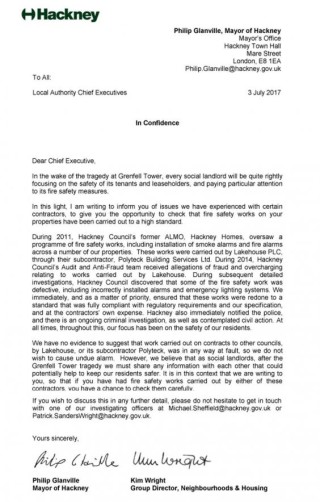 Lakehouse's response to this and to press coverage can be read in full here [link opens in new window].
Got a story? Email news@theconstructionindex.co.uk